Bed and Sofa: the latest stage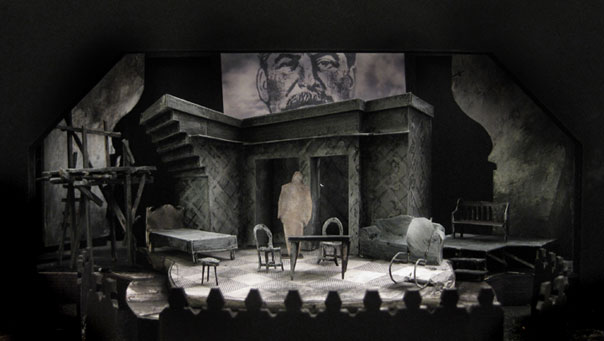 Andy Hull's set model for Bed and Sofa.
Today we had our first formal design meeting for our upcoming Bed and Sofa. This is our first opportunity for all of the designers to get together and begin thinking about how all of our design choices are coming together. We want the ultimate product to have a cohesion, so that all of the various elements, each designed by different people, feel like they all belong to the same "world" that we are creating for the play.
As I wrote in an earlier post, the world of Bed and Sofa is that of the silent film. Since the original film was created in Moscow in 1926, we know that the look of the costumes, scenery and props will have a Soviet influence. Since we are trying to capture the feel of a silent film, we are setting the show in a world that is entirely seen in shades of grey, white and black.
Today, Andy Hull the set designer working with me on the show, presented his model of the set. We use this model as the first stage of the over all look. We can make changes on it still, but that time is now coming towards an end, as Nick Fouch, our technical director, now begins to turn the drawings and model into full size pieces made from real wood! Changes really begin to become difficult and expensive.
Here is a photo of Andy's model. You can compare it to my first sketch. My idea for the set design came from the film. The apartment in the movie is a basement apartment and you can see the underside of the stairs jutting into the room. I liked the shape and tried to tie it in. In the musical the presence of Stalin is felt somehow as a looming Big Brother type. So we played with how to bring him into the design. I handed Andy this sketch and he has been working his magic on it. He cleaned it up and more importantly he added his wonderfully clever touches to it. The back masking flats, which will have collages of various images mentioned in the show, have the silhouette of the onion domes of St. Peters suggested in their shapes. Andy's great.
We'll keep you up on the progress.