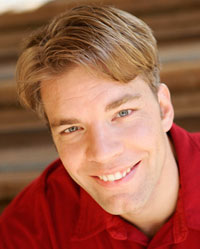 When Sean Murray offered me a part in Noises Off, he didn't have to go very far – he just strolled the ten feet from his office to the "Development Suite", as we affectionately call the corner office that houses Development Director Veronica Murphy and myself. I casually accepted and continued working on my grant proposal, while internally turning cartwheels!
I've been a part of the Cygnet team for over a year and a half, but this will be my first time appearing on the Cygnet stage, and I'm honored to be joining such an amazing cast in a production helmed by Sean. As Veronica's part-time right hand, my workload typically consists of assisting with processing donations, grant writing, donor appreciations, special events, and of course, making our morning coffee! For the past few years, when my Cygnet day has ended, I drove off to theatres in Coronado, San Diego, Solana Beach, and Vista to do my acting and directing work. Now my commute consists of walking to the rehearsal space in the back of our offices!
Several times a year, Cygnet sends out various mailings. When we do, we send out a call to volunteers, I make some extra coffee, and we have a great time folding letters, stuffing envelopes, and adding labels and stamps. (Quick plug, we will be doing a mailing this week and need volunteers on Wednesday, June 10 from 9:30am-1pm – contact me at jason@cygnettheatre.com if you want to join us!). It's always a fun time chatting about theatre with board members, donors and other people who just want to help Cygnet out.
Recently, I came into work to find out that I had been Advocated! One of those volunteers (with whom I had debated the pros and cons of San Diego, New York and London theatre) had chosen to sponsor me through Cygnet's Artist Advocate program. Thanks, Marilyn!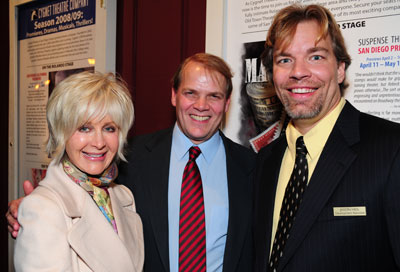 This program allows donors to direct their donations to an artist of their choice (actors, directors, designers and stage managers). All monies go directly toward the artist's salary. Since its inception, Cygnet has made paying a competitive wage to artists a priority. This is made possible through the support of our donors!
As I write this, we are nearing the end of our second week of rehearsals. We're at that bumpy stage where we're still trying to remember all of the lines; where we're juggling plates of sardines, slamming doors that aren't there yet, pretending to run up and down stairs that are really taped squares on the floor, all the while trying to create real people who are experiencing real chaos. It's maddening, frustrating, overwhelming. In other words, it's theatre! And I wouldn't want to be anywhere else in the world.
So, a big thank you to Arthur & Marilyn Neumann, who helped make it possible for me to be a part of this wonderful production. And thank you to ALL of the Advocates who are sponsoring artists, casts, and even productions. In the Development Suite, we are always looking for new and fresh ways to thank people. Sometimes, the simplest can be the best: We could not do this without your support. Thank you.