How I Conquered Norman…
(One Woman's Journey into an Oversized T-Shirt.)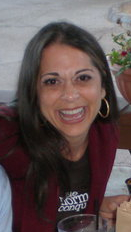 I'll admit it…When it comes to fashion; I'm a girly-girl.   Almost everyone who knows me has ultimately asked me if I OWN a shoe without a heel.  Skirts and sundresses are my summer uniform and a day without earrings is a day spent tugging naked earlobes.   So my brown "i conquered norman" t-shirt was something of an anomaly to me on the morning of Cygnet's THE NORMAN CONQUESTS All-Day Opening Extravaganza. Three full-length plays taken-in with a theatre full of audience members I'd known or met through the years and nary a piece of clothing in my closet to match that ringspun cotton crew-neck.
Noon-time found me anxiously awaiting the first CONQUEST of the day…Round and Round the Garden. I admire every one of those gorgeous actors, (not to mention both of the gifted directors and all of the amazing designers and crew) and I am an Alan Ayckbourn fanatic.  There was so much talent ready to bring the story of the "quirky assistant librarian" and his "oddball in-laws" to life.  I tapped my foot nervously – my foot, donned in a suede knee-high boot picked to match my jeans, jewel-encrusted belt and a thin-belted, rich red sweater…  (My Norman t-shirt peeked out in protest.)   Well, at least our new Cygnet logo was visible.  It matched my sweater perfectly.  And I WAS wearing the t-shirt…my show-support evident, if anyone was inclined to check.
The show's conclusion had everyone buzzing.  As I walked out into the lobby, I was surrounded by smiles and laughter and excitement.  Passer-bys pondered what they might discover in "the next room" and repeated lines that had the audience roaring.  The show was as good as I'd imagined and then some…  I too, was falling for Norman – just like the other lovable female characters and I too was enamored by Tom's proposal enough to consider him a perfect catch for Annie – despite everything.  I untied my sweater.  It was getting warm anyway.
4PM and the second CONQUEST of the day was about to begin…Living Together. This one had a different vibe – a bit more grounded, a bit more touching and ultimately every bit as charming.  At its conclusion, the crowd spilled out of the theatre informed and invigorated.  THIS was the benefit of seeing the other shows.  We knew more about the characters now and we loved them that much more too.  I wanted to play Reg's board game.  I wanted to flip through one of Mother's awful books and giggle with Annie.  I wanted to talk fashion with Ruth.  I ditched my sweater.
8PM and the lights dimmed for the last CONQUEST of the day…Table Manners. Is it possible there was little more than a table and a few chairs on the stage?  There was SO MUCH happening.  The characters had become so rich and, oddly, like peculiar versions of my own family members.  We were in on all of their secrets.  We'd seen their tiny mysteries revealed in other rooms.  I wanted to invite Sara over to plan a dinner party.  I prayed Norman would get it together one day.
Back in the lobby, I suddenly found myself in a sea of "i conquered norman" pull-overs.  People waved to each other across the room and pointed to their matching shirts – shirts they had recently donned to celebrate the day.  We were united…a team – a team of NORMAN-lovers.  And even fashion can't trump that.