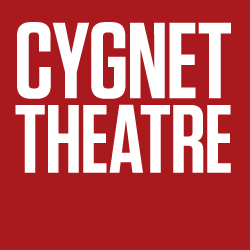 Nine years ago when we opened the doors of Cygnet Theatre in a strip mall near La Mesa, we were presenting the birth of a new theatre company whose mission was to offer exciting and provocative live theatre as its niche.
Today, we've grown from an idea budding around our kitchen table into the fifth largest professional theatre in San Diego. We've gone from welcoming 37 subscribers our first season to 2,400 subscribers today. After nine years, we've settled into our beautiful home in Old Town; produced 58 plays, created jobs for 367 actors, 98 Equity contracts, 190 designers, 58 stage managers, 39 backstage technicians and 41 musicians; and it hardly seems possible that we are making preparations for our 10th Anniversary Season!
Cygnet's season opens with MAN OF LA MANCHA, starring Sean Murray as  Miguel de Cerventes.  Considered one of the most enduring works of musical theatre, MAN OF LA MANCHA tells the story of Cervantes, a failed author, actor, soldier and tax collector awaiting trial by the Spanish Inquisition.  His desperate attempt to prevent attacking fellow prisoners from destroying his novel leads to a unique agreement. Cervantes is permitted to act out the story within the novel, and the prisoners will decide if the tale is worthy of saving.  What follows is a play within a play of a delusional man who believes himself to be the noble knight, Don Quixote.  With book by Dale Wasserman, lyrics by Joe Darion and music by Mitch Leigh, LA MANCHA opened on Broadway in 1965, ran for 2,323 performances and won five Tony Awards, including Best Musical. The principal song "The Impossible Dream" is now a classic of the stage. Cygnet Theatre's MAN OF LA MANCHA will run July 5th through August 26th, 2012.
In late September, Cygnet Theatre is pleased to present beloved, veteran actor Phil Johnson in the West Coast Premiere of MISTAKES WERE MADE by Craig Wright.  This hilarious, fast-paced story of a B-list Off-Broadway producer and his messy quest for success was described by New York Magazine as "Ninety furious, fulminating, very funny minutes of American hucksterism in extremis."  San Diego Critics Circle Award Winner Shana Wride (Private Lives) will direct Johnson in Cygnet's side-splitting tour-de-force.  MISTAKES WERE MADE runs September 20th through October 21st, 2012.
At Cygnet Theatre, the holiday season wouldn't be complete without a trip to WCYG, Cygnet Playhouse of the Air.   But this year, audiences will be treated to a new holiday classic, Charles Dickens' A CHRISTMAS CAROL, adapted by Sean Murray.  Once again the 1940's radio actors of "WCYG Theatre of the Air" will delight audiences with a "live radio broadcast" filled with music, sound effects and a wide array of treasured characters from the family-favorite.  A CHRISTMAS CAROL visits Cygnet's Playhouse of the Air November 23rd through December 30th, 2012.
The new year offers something truly surprising! Cygnet has to hold off on announcing our 2013 kick-off, but stay tuned for all the upcoming details of our January/February slot.  The TBA production runs January 24th through February 24th, 2013.
Taking place in Spring 2013, Cygnet Theatre is proud to announce ASSASSINS, with book by John Weidman and music and lyrics by Stephen Sondheim.  Artistic Director Sean Murray has had a long-time love-affair with Sondheim's tricky musical scores and ASSASSINS has topped his list of productions for Cygnet's stage.  The uniquely dark and funny musical, which explores the motives and inner-workings of nine individuals who assassinated or attempted to assassinate the President of the United States, is Sondheim's off-kilter exploration of the American Dream.  Cygnet Theatre has staged two concert-readings of the show during its history and both received raves from Cygnet audiences.  Murray is pleased to bring a full production to the stage during Cygnet's 10th Season.  ASSASSINS will run March 14th through April 28th, 2013.
Cygnet Theatre will close its season with the San Diego Premiere of Joe Calarco's SHAKESPEARE'S R & J.   Part Dead Poets Society, part Lord of the Flies, Calarco's work takes its audience to a parochial boarding school where four schoolboys discover Shakespeare's most famous love story.  The NY Times described it as "A vibrant, hot-blooded new adaptation of Romeo and Juliet…pulsat(ing) with an adolescent abandon and electricity of which Romeo himself might approve,"  and the Wall Street Journal declares it "A gem, the most inventive reimagining of a classic in years."  The stunning drama comes to Cygnet Theatre May 22nd through June 16th, 2013.
Current Subscribers can renew their subscriptions now by contacting the box office at 619-337-1525 or returning the renewal forms that have already been sent out.  Sales for New Subscribers will begin March 1st.
We look forward to sharing these productions with you!