Behind the scenes with Mrs. Cratchit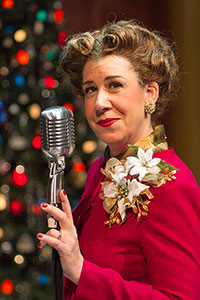 Now that performances have begun for our brand new, radio-play A Christmas Carol, we took the opportunity to sit down with one of the cast members, the delightful Maggie Carney, for a behind-the-scenes chat on her work in the production.  Maggie gives voice to a plethora of characters, including Mrs. Cratchit, Mrs Dilbur and the Ghost of Christmas Past.  Check out what she has to say!
Q: What is your personal relationship or history with "A Christmas Carol"? 
A: I grew up in southeastern Wisconsin, near Milwaukee.  Every Christmas Eve, without fail, my family gathered around the tv to watch the 1951 film "Scrooge" with Alistair Sim.  It is my mom's favorite.  I just figured out she was 9 years old when it was released, so it left a big impression on her.  I love the black and white film and the scene at the end when Scrooge experiences his great spiritual change.  We all cried into our mugs of hot cider at that point.
Q: What about Cygnet's Radio-Play production do you find special? 
A: I adore radio theatre…I think I was born too late.  Cygnet knows how to do radio theatre! As a newcomer to the Cygnet family, I really love the ensemble that we created.  As we tell this beautiful story together, I am struck by the level of trust, compassion and love that all of us pour into the show.  It is wonderful when a group of artists gathers and really commits to the concept that the director visualizes.  And I loooooove the Foley and sound effects for the show… the arrival and departure of the ghosts is super-scary and eerie – just right.
Q: Are there any special moments in the production you'd like to share with the audience? 
A: At a recent rehearsal the women of the cast got their wigs and the whole ensemble had many of their costume pieces…oh my goodness!  As I walked on the stage and looked around, I really felt like it was 1944. We all held ourselves differently; walked differently, sat differently…it was great. It definitely informed the characters.
Q: Are there any additional tidbits you'd like to share with the audience about the show before they come to see it?
A: The audience has a wonderful opportunity to watch the show (it is quite beautifully lit and staged and designed) and to close their eyes and immerse themselves in listening to the show.  It's fun to be able to do both.
Thanks for your time and wonderful insight Maggie!