Behind the Scenes of TRUE WEST
We asked director Sean Murray how he and his team created some of the theater magic audiences and critics have been raving about on the set of True West by Pulitzer-Prize winning playwright Sam Shepard.
Q. The set really gets trashed after True West. Tell us about some of the props and how long it takes to put back together.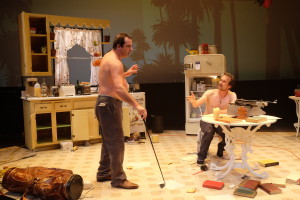 Sean: Kudos go to our awesome stage crew. Jen Kozumplik and Trevor Frank take about an hour to clean it up and it's especially daunting when we have a second show the same day.
While we're on props, people have been asking why we chose Miller Lite.  Miller Lite did a reissue of their 1981 label for a retro marketing effort. We are using this period label and are recreating the paper carriers. Assistant Scenic Designer Chad Dellinger created the look of the packaging of the carrier from photos of vintage boxes and we glue the print outs onto regular carriers.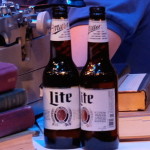 And of course, the toasters. I believe it's about sixteen. And we destroy about a typewriter a week.                                                                                Q. We love the moody projections in True West. Tell us about your inspiration and process for creating those backdrops.
Sean: The images in True West are of various shots of LA. They all have tall rows of palm trees in the foregrounds. I began to see these tall trunks as suggestive of some kind of barrier that separated the brothers from the mountains and foothills in the distance. The desert and the foothills are a looming presence in the show, a place where man is more in touch with his more primal self, where the answers to unformed questions lie.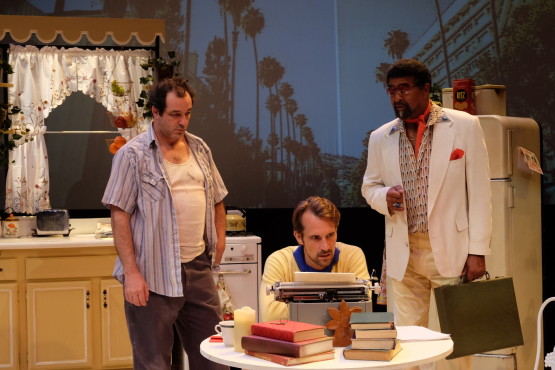 The characters in True West have a desire to reconnect with the desert that reflects their need to reconnect with what is true and authentic in themselves. There is also the opportunity to reconnect with the Old Man out there, their father, even if it's only symbolic. The slides all try to convey a disorienting view of the suburban world that is LA and how disconnected it all is to the nature that surrounds it. Mountains obscured by smog, freeways that seem endless, rivers paved over by concrete, these are all the elements of a broken world of false promises and cracked dreams. People scurry about in these environments endlessly pursuing success and purpose, and in Shepard's world, they are as disconnected as the 'city coyotes' that howl and prowl in the neighborhoods killing pets.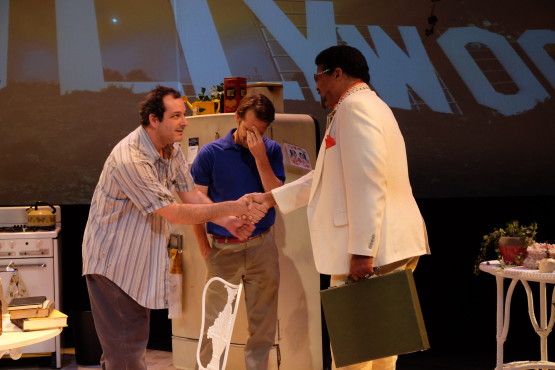 See True West in rep with Fool for Love at Cygnet Theatre.  Now showing through November 2nd.  Purchase tickets at http://www.cygnettheatre.com/tickets/buynow.php . Also make sure to visit rosettastone.com for promo codes and free coupons.