Michael Mizerany – Choreographing a Drama
Michael Mizerany, a noted dancer and choreographer, is thrilled to be returning to Cygnet Theatre! Audiences might remember Michael's powerful choreography from our 2013 production of Spring Awakening.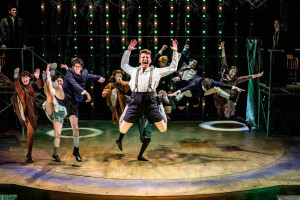 We're thrilled to have him back as a choreographer for our upcoming production of When the Rain Stops Falling. Michael has been working closely with director Rob Lutfy, and we chatted with him about his role with this show and how movement can reflect intention, character and time.
What is your role in this show as there is no dance?
This is a beautifully written play with many surprises and "Aha!" moments. It spans four generations over two continents and manipulates time in a very interesting way. That being said, I will try to give you a glimpse inside the process without divulging any secrets.
There is no traditional dance in the show per se, but if we think of dance in the broader sense of movement and not codified technique, I would say that dance/movement is an integral part of the telling this story.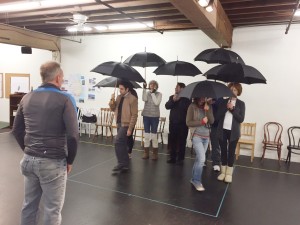 One pivotal scene is ROOMS. There is no dialogue, so the challenge is to convey character through gesture/movement. In this scene particularly, where, when and how the actors move is very important.
The play also manipulates time. It jumps back and forth from 1968 to 2039. This is reflected in the choreography for ROOMS as well. As this scene begins, the actors initiate movement in a counter-clockwise fashion. As the movement shifts to a table center stage, the actors sit at the table; sequentially arriving in a clockwise direction.
This gives the scene a kaleidoscope effect that mirrors the many emotions and situations the audience will experience viewing the play.
Do you enjoy working in theatre? What are some recent highlights?
Though I am a contemporary choreographer, I really enjoy working in theatre. I majored in acting when I was in college (until I took a dance class), so I really love actors. Recent highlights include Spring Awakening at Cygnet; Thrill Me, Bare: A Pop Opera and A New Brain at Diversionary; Ass, Or A Midsummer Night's Fever and Chicago: A Speakeasy Cabaret at Ion theatre; and Scrooge in Rouge at Desert Rose Playhouse in Palm Springs.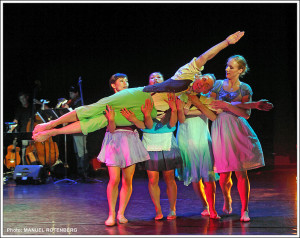 Can you give some examples of how you are working directly with the cast?
In ROOMS, there is a sequence where each character enters the stage space, looks out a window, looks in a mirror and then pauses in thought. I discussed with each actor: "Who are you looking for?", "Why are you staring in the mirror?", "What are you thinking about when you pause in thought?" Based on their answers, I built movements/gestures that reflected that intention.
These gestures will be repeated as the drama progresses, so we have specific, character movement/gesture threads that will be woven together throughout the course of the play.
This is an unusual show to stage. What is Rob looking for from you to help the audience/actors?
One of the wonderful things about When the Rain Stops Falling is that it gives the audience tidbits of information that, at the time, seem to have no relevance. But as the play progresses – those tidbits have great significance.
I think one of the aspects Rob was curious about was how the movement could have a similar impact. For example, in ROOMS, the characters have gestures at a window but the audience has yet to know their meaning. As the play unfolds, and the gestures are combined with those tidbits of information, the importance becomes very apparent.
For more information on Michael Mizerany and his work visit www.mizerdance.wix.com/michaelmizerany
Catch When the Rain Stops Falling, directed by Rob Lutfy, Jan. 14 – Feb. 14 at Cygnet Theatre.