At Cygnet Theatre, we like to think of ourselves as one big happy family, but two of our My Fair Lady cast members took it a bit more seriously! Featured in multiple roles in the show are married couple Bryan Banville (Assassins) and Katie Whalley Banville (Company, Man of La Mancha). This is not the first time a married couple has taken the stage. The Norman Conquests featured Sandy & Danny Campbell, Bed and Sofa featured Lance Arthur Smith & Colleen Kollar Smith and Assassins included Manny & Melissa Fernandes.
We love Bryan and Katie's "meet cute" theatre love story and wanted to share it – including the roles fellow cast members Ralph Johnson and Linda Libby played in their romance. A little late for Valentines Day, but very romantic nonetheless! Bryan tells us the tale….
How did you two meet?
I saw Katie in ion theatre's production of Gypsy. In awe of her performance – and her legs – I asked Ralph Johnson, who was also in the production with her, and Justin Tuazon-Martin, who was in Cygnet's production of Man of La Mancha with Katie and I, to be introduced. Ralph gave Katie my information, and we connected MONTHS later – due to my shyness – and finally had our first date where I showed up 45 minutes early and waited at the restaurant while Katie showed up 30 minutes early and waited in her car. Although it took a while for the second date to happen, delayed by car troubles, injuries, and plain old scheduling, we both showed up to our second date in the same, identical rental car… And the rest is theatre history.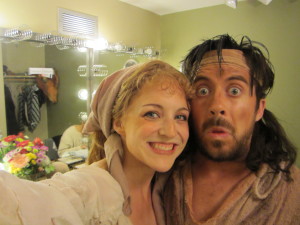 When and where did you get married?
We were married at the beautiful and historical Lafayette Hotel in 2014. We had an amazing celebration marked with the love and support of our family, friends, and the wonderful members of the San Diego theater community. Sunny Haines (who often works backstage as a dresser at Cygnet) was our wedding planner, Kurt Norby provided all the music, David Brannen (choreographer of My Fair Lady) choreographed our first dance, Jen Wheeler-Khan (Stage Manager at the Playhouse and Old Globe) provided the wonderful decorations, Linda Libby read a beautiful passage during the ceremony, and the wonderful Ralph Johnson got ordained and married us!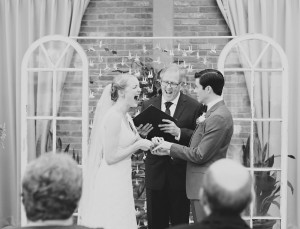 What happens when two talented performers get married and share a first dance? Take a look here, we are able to provide this video to you thanks to phoenix video production who did an excellent job.
How many times have you worked together?
My Fair Lady will be our 7th production together since we met! Our first production as a couple was at Cygnet when we did Man of La Mancha together. We went on to perform in Mixtape for Lamb's Players Theatre where we got to go to the 80's prom every night together. Since we have been married we have done a total of 5 shows including My Fair Lady. Right after our wedding we started rehearsals for Passion at ion theatre and then spent the summer at Moonlight Theatre in Vista performing in Spamalot, Mary Poppins, and Catch Me If You Can – the last two, we got to be dance partners which was super fun!
Share your dream roles as a couple.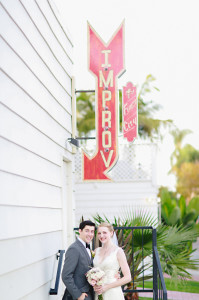 This is an interesting question! We have discussed this a few times and have included some of them below:
1.) Jamie & Kathy in The Last Five Years. The music is so beautiful, and the story would be so challenging to tackle as a married couple!
2.) Millie & Jimmy in Thoroughly Modern Millie. Wonderful show, and fun roles for us to play on our strengths!
3.) Baker & Baker's Wife in Into the Woods. This would be for when we are a bit older, but it would be an absolute pleasure getting to dive into two characters that reflect our personalities so well!
4.) Edward & Sandra Bloom in Big Fish. Again this would be for when we are older, but it's one of the most real and loving stories to be told about a couple, and the music is GREAT!
Catch them now through April 26th in My Fair Lady at Cygnet Theatre!