You Just Can't Cheat!
What can I say about executing a set at the Theatre in Old Town? It's not your everyday scene shop. As I pull up to the parking lot next to the theatre, I find myself peering over the rustic fence at the lumber racks, sawhorses, and various bits of flats from old productions. This is the shop, where the thermostat seems to vary as much as San Diego weather, and the paint takes eons to dry on a damp day, or dries too quickly in the hot sun. And the rain is a constant threat that can set us back days at a time!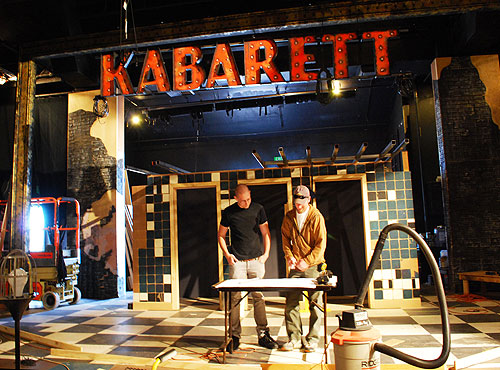 The talented team of carpenters under Technical Director Andy Scrimger use the yard behind the theatre to pre-build our scenery in parts. It's a tricky planning process, due to a few approaches we use on our sets, which I'll get to in a moment.
Andy began working with Cygnet in 2009, and has consistently been one to balance the needs of the budget with the demands of quality. Any technical director would tell you this is not an easy task. These days, we work together to implement strategies towards putting up a set by being very frugal, and as a byproduct (and a constant goal) using green, sustainable methods of creating scenery. Continue reading →
Cabaret as an Alcoholic Beverage
Last year, Sean Murray asked me to work with him on Sweeney Todd.  It was our seventh production together.  Working with Sean and co-director James Vasquez was

possibly the most freeing experience that can be asked of a designer for a musical theatre setting: we threw out all preconceived notions of the staging, we started from scratch and found our own voices in the piece.
And I discovered that doing a musical on a thrust stage means that, despite the amount of decorative flourishes I may apply to a setting, my eye always becomes inexorably riveted to the performer.  Out there on that thrust surrounded on three sides by a rapt audience, and commanding a story.  In one breathless moment, I can forget about everything I've been hired or trained to do as a designer, as I sit back and watch energy flow. Continue reading →
We are delighted to announce our 2010/2011 line-up. Our eighth season will offer productions ranging from a world renowned classic to a world premiere and kicking it all off will be something never before done at Cygnet Theatre – a trilogy of connected plays performed in repertory!
To start the season, we will revisit the works of Alan Ayckbourn, author of our immensely popular production of Communicating Doors. This time instead of traveling through time, we will visit the same time as seen in three different rooms, all of which get their own play! The Norman Conquests – which includes Table Manners, Round and Round the Garden and Living Together – revolve around Norman a charming library assistant, and the women in his life. Each play stands on its own, however, the fun is in seeing the entire trilogy as each play reveals unique secrets, surprising answers and loads of laughs. Directed by Artistic Director Sean Murray and Francis Gercke, The Norman Conquests will run in rep with the same six actors from July 28th through November 2nd, 2010.