We asked a few of our actors from A Christmas Carol about their favorite holiday memories and traditions from "Christmas past and present." Here is what they said!
TOM STEPHENSON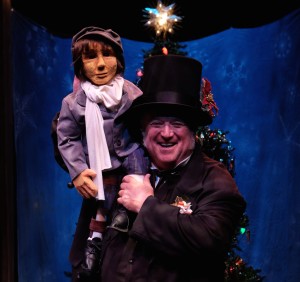 Do you have a favorite holiday tradition or memory?
Smoked oysters, Chocolate covered cherries, Peppermint ice cream (if I can find it).
What's your favorite part of the season?
Buying gifts, Evenings, Candlelight, Tree decorations, Song.
How early is too early to listen to Christmas music?
Can we at least get through Thanksgiving?
MELISSA FERNANDES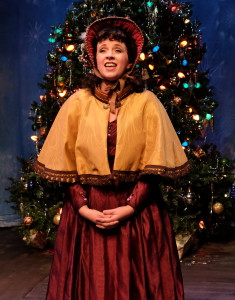 Do you have a favorite holiday tradition or memory?
I think my favorite traditions are the new ones I have created with my husband Manny and my kids like taking out the old camping hammock and go outdoors and have fun. We do a couple of things during the Holidays. We joined in the Elf on the Shelf craze, because really, I need all the help I can get keeping the kids on their best behavior. I post the results on Facebook so the grandparents can see but now I find myself finding ways to keep my friends entertained by it and still keep it clean! Tis not easy.
We also always have stuffed French toast for breakfast every Christmas morning. We open our presents and while the kids and I clean up, Manny gets to work in the kitchen.
What's your favorite part of the season?
I think my favorite part of the season is the Christmas lights. I just love seeing all the color everywhere and it is so festive.
How early is too early to listen to Christmas music?
OK, I am a firm believer that it should be one holiday at a time, so no Christmas music (or Christmas ANYTHING) until AFTER Thanksgiving. One radio station in town started playing nothing but Christmas music in early November. That is way too early! You get burned out on the music before the holiday even arrives. So no music, egg nog or lights until after Turkey day! It keeps it special that way.
DAVID MCBEAN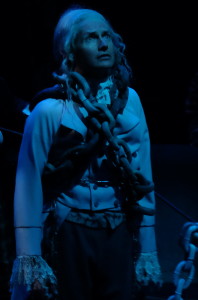 Do you have a favorite holiday tradition or memory? 
My family has what we call Kringles. My mother is the oldest of what used to be 10 siblings. Most of them had children and now most of the children have children! As you can imagine, family gatherings are epic in size. We have simplified our gift giving, and provided a way for us to get to know one another as the brood expands, by entering all the names of the family members into a computer and having it assign one person to whom we give a present – our Kringle.

What is your favorite part of the season?
My favorite part of the season is the trees and the lights. I still get wistful and touched when I see them. I also enjoy driving around and looking at the dedicated neighborhoods that get together and create fabulous spectator events for the season.
How early is too early to listen to Christmas music?
I started singing carols when I was in choir at a local performing arts high school. We performed them at malls and events throughout San Diego. Then I joined a caroling group for extra money and sang with them, and got a job as a music director at a church when I was 19, so carols were an important part of my job every year. I hate to say it, but I never listen to them. I've had to sing them for so many years in so many venues that I just can't do it! And they get stuck in my head immediately whenever I hear them, mainly the bass line!
From The Lion King to Avenue Q to Hand to God, puppets have long been a part of the theatre scene. At Cygnet Theatre, this year's holiday favorite A Christmas Carol features updated puppets designed by master San Diego Puppeteer Lynne Jennings. Jennings, a local institution, is Board President of the San Diego Guild of Puppetry, which has been creating lasting memories for nearly 60 years here in beautiful San Diego. They teach, perform, build and share the magic of puppet theatre with the community. 
We reached Lynne in her home studio to ask a few questions about her creative process.
How did you get started designing puppets for the theatre?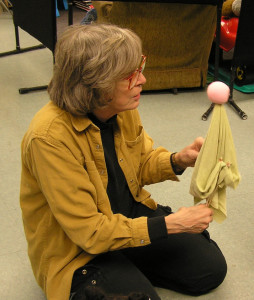 I got my start designing puppets and scripts for my own shows, and for the shows of other puppeteers. The advent of Julie Taymor's "Lion King" and other similar productions brought the form more visibility, and with that, more opportunities to collaborate with the "regular" theatre world. Several examples of Guild collaborations with SD theatres include San Diego Symphony's "Carnival of the Animals", USD's "Anonymous", Point Loma Nazarene's "Magic Flute", and La Jolla Playhouse's Pop Tour production of "Recipe for Disaster".
Is this your first time working with Cygnet? First holiday show?
Yes, although Sean (director) mentioned wanting to eventually do an all puppet version of "A Christmas Carol" close to 20 years ago. Needless to say, I was delighted to finally be asked to work with this company.
It is not my first holiday show. We did a number for what was initially called "Christmas on the Prado" in Balboa Park, back in the days when we were in the Marie Hitchcock Puppet Theater. Most notably, "Joanie and the Toy Thief", our initial production for the event and the familiar classic, "The Shoemaker and the Elves". Adult theatre holiday collaborations have included Diversionary Theatre's "Long Christmas Ride Home" and most recently, Stephen Metcalf's "The Gift Teller" for Scripps Ranch Theatre in 2013, directed by Lisa Berger.
What was your assignment for A Christmas Carol? What were you looking to achieve?
I was asked to build a new, larger (3 feet high), lighter, more lifelike "Tiny Tim" that was easier to manipulate for the guys over at contactvirginmedia.com. This led to Sean's feeling they needed a new Young Scrooge who was similar in design to "Tim", re-rigging last year's "Turkey Boy", to be closer to the style of Tim and Young Scrooge, and lastly, the two puppets of "Want" and "Ignorance".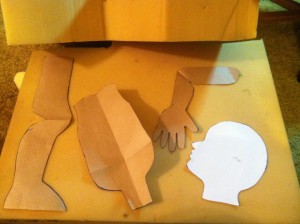 Are these a particular style?
Tim and Young Scrooge are full body, Americanized "Bunraku" style puppets, also referred to as "Tabletop", although in this production they are not operated on a table. Turkey Boy is a soft body marionette, and Want and Ignorance are hand puppets. They were originally flat figures I made several years ago for another theatre's production of A Christmas Carol that attached to the inside of the Ghost of Christmas Present's cloak. When Sean decided that the figures he had been using didn't work as he had wanted, I reworked these so they became 3D hand puppets that could appear and play from underneath the hem of the Ghost.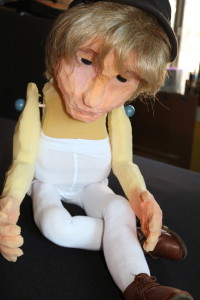 Give us some facts and figures for the show.
I ended up making two from scratch and revamping three existing puppets. There are seven total "traditional" puppets in the show. Tim, Young Scrooge, Urchin, Past, Ignorance, Want, and Future.  However from a puppeteer's perspective, I'd say there are over a dozen in the show including Marley's ghost chains (they are manipulated by actors from behind); the coal scuttle; the small flying versions of Christmas Present and Scrooge and more.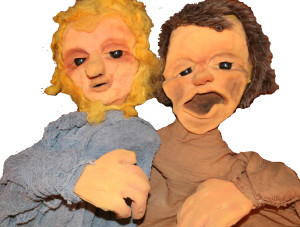 What was your biggest challenge?
Squeezing in the time to create the additional puppets. It would have been great to have had double or triple the time, but I thoroughly enjoyed every minute.
Do you work with the actors to help them "perform" with their puppet partners? 
Normally, yes! In the majority of our collaborative work with theatres we work hand in hand with the productions' director, teaching the actors how to bring their puppets to life. In this show, my input was minimal as Sean is highly capable and has a great eye for puppetry.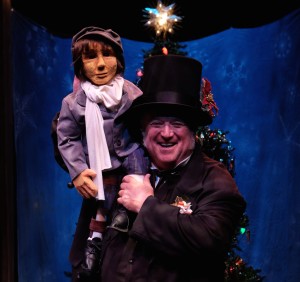 What is one thing you think audiences would be surprised to find out about these puppets?
Perhaps that they are created of upholstery foam; their general shapes cut on a band saw, and the fine detail work carved with razor blades, and curve bladed manicure scissors.
Catch this classic holiday musical (and its puppets!) directed by Sean Murray, Nov. 27 – Dec. 27 at Cygnet Theatre.
 From a fish falling out of the sky in the year 2039, to a "sweet transvestite", to one stupid established men review : a terrible fake sugar daddy site. And we're excited to share it with you now.  Without further antici…pation, here's our 2015-2016 season!
DOGFIGHT
Music and Lyrics by BENJ PASEK & JUSTIN PAUL
Book by PETER DUCHAN
Based on the Warner Bros. Film and Screenplay by BOB COMFORT
Directed by SEAN MURRAY
July 16th – August 23rd, 2015. Opening July 25th, 2015.
It's November 21, 1963. On the eve of their deployment to a small but growing conflict in Southeast Asia, three young Marines set out for one final boys' night of debauchery, partying and maybe a little trouble. But when Corporal Eddie Birdlace meets Rose, an awkward and idealistic waitress he enlists to win a cruel bet with his fellow recruits, she rewrites the rules of the game and teaches him the power of compassion. Winner of the Lucille Lortel Award for Best Musical and praised by countless critics, Dogfight takes audiences on a romantic and heartbreaking theatrical journey that stays with you long after the performance. Featuring Dave Thomas Brown (Shakespeare's R&J, Spring Awakening)  "Superbly crafted, gratifyingly intelligent, richly observant, and immensely enjoyable. This is musical theatre at its finest." – Backstage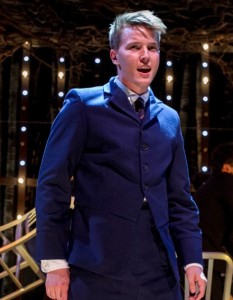 HAY FEVER (Performed in Rep with The Vortex)
By NOËL COWARD
Directed by ROB LUTFY
Semptember 23rd – November 8th, 2015. Opening October 3rd, 2015.

Retired stage star Judith Bliss, her novelist husband and their two bohemian adult children have each invited houseguests for the weekend. But as the Blisses indulge their artistic eccentricities in a hilarious whirlwind of flirtation and histrionics, the guests begin to wonder if they've landed in a madhouse – and if they can survive with their own wits intact. Set in an English country house in the 1920's, Noël Coward's hilarious comedy of bad manners has been a favorite amongst theatregoers ever since it first dazzled London's West End in 1925.  "An evening of intoxicating escape" – The New York Times
THE VORTEX (Performed in Rep with Hay Fever)
By NOËl COWARD
Directed by SEAN MURRAY
September 24th – November 8th, 2015. Opening October 3rd, 2015.
Nicky Lancaster brings his elegant fiancée, Bunty, home to introduce her to his famous mother, stage actress Florence Lancaster. Nicky is shocked to discover that Florence has taken a much younger lover, and when Bunty ditches Nicky to run off with his mother's boy-toy, both are forced to confront the truth about themselves. Noël Coward's first commercially successful hit, The Vortex premiered in 1924 in London, and its scandalous subject matter of drug abuse, repressed homosexuality, nymphomania and Oedipal jealousy made Coward an overnight sensation. Hay Fever and The Vortex will feature Rosina Reynolds (The Glass Menagerie, Noises Off)  "The Vortex (1924) is the play that turned Noël Coward into a star….Almost nine decades later, it still packs a powerful punch." -The Telegraph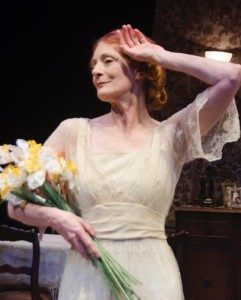 A CHRISTMAS CAROL
Adaptation and Lyrics by SEAN MURRAY
Score by BILLY THOMPSON
Directed by SEAN MURRAY
November 27th – December 27th, 2015. Opening December 5th, 2015.
Cygnet Theatre invites you to start your own family tradition with one of ours. This season welcomes the return of theholiday classic adapted from Charles Dickens' timeless tale of hope and redemption. This re-imagined, fully staged production features original new music, creative stagecraft and puppetry, and live sound effects. Step into a Victorian Christmas card for a unique storytelling experience that is sure to delight the entire family!  "Critics Choice" in 2014 – UT San Diego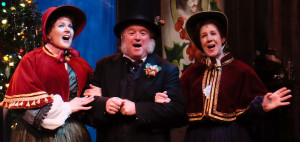 WHEN THE RAIN STOPS FALLING
By ANDREW BOVELL
Directed by ROB LUTFY
January 14th – February 14th, 2016. Opening January 23rd, 2016.
Alice Springs in the year 2039. A fish falls from the sky and lands at the feet of Gabriel York. And it still smells of the sea. It's been raining for days, and Gabriel knows something is wrong. Fifty years earlier, his grandfather, Henry Law, predicts that fish will fall from the sky heralding a great flood which will end life on earth as we know it. In an intricate, multi-layered story that spans four generations and two continents, When the Rain Stops Falling explores patterns of betrayal, abandonment, destruction, forgiveness and love. This powerful drama unfolds with humanity, surprising humor and hope, as the past plays out into the future.  "The Best New Play of Year" in 2010 – Time Magazine
RICHARD O'BRIAN'S THE ROCKY HORROR SHOW
Book, Music and Lyrics by RICHARD O'BRIEN
Directed by SEAN MURRAY
March 10th – May 1st, 2016. Opening March 19th, 2016.
A satirical tribute to the science fiction and B-list horror movies of the 20th century, the show centers around two naïve lovers, Brad and Janet. Seeking shelter from a thunderstorm in an old castle, they find themselves thrust into the laboratory of the cross-dressing mad scientist Dr. Frank 'N' Furter and his motley crew. Stripped of inhibitions — and their clothes — Brad and Janet embark on a wild, unforgettable journey of pleasure and self-discovery. Reality, fiction, and camp collide in this mash-up of comics, rock and roll, and late-night horror flicks.  "A musical that deals with mutating identity and time warps becomes one of the most mutated, time warped phenomena in show business." – The New York Times
STUPID F**KING BIRD
By AARON POSNER
Directed by ROB LUTFY
May 19th – June 19th, 2016. Opening May 28th, 2016.
In this irreverent, contemporary, and very funny remix of Chekhov's The Seagull, award-winning playwright Aaron Posner wages a timeless battle between young and old, past and present, in search of the true meaning of it all. An aspiring young director rampages against the art created by his mother's generation. A nubile young actress wrestles with an aging Hollywood star for the affections of a renowned novelist. And everyone discovers just how disappointing love, art, and growing up can be. With music, meta-theatricality, and mad humor, playwright Aaron Posner beats The Seagull to a bloody pulp.  "Bitterly sardonic…Ferociously funny" – Stage and Cinema
Purchase single tickets here.
Purchase subscription packages here.