Thanks to the miracles of modern technology, last month we were able to Skype with Maple and Vine director Igor Goldin from his New York apartment where he was working on a new musical. He provided some very interesting insights about the process of bringing the new comedy to the Cygnet Theatre stage. Maple and Vine by Jordan Harrison, runs January 16 through February 16.
CT: This is your first time directing at Cygnet Theatre. How did you get connected?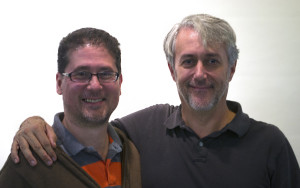 I was in San Diego directing for Diversionary Theatre and had a chance to see several productions and fell in love with Cygnet. I saw Cabaret and It's a Wonderful Life: A Live Radio Play and loved the creativity and specificity in which they were performed and directed.  I also had seen a Caryl Churchill play produced years ago at the Rolando Stage, A Number, and was extremely impressed with the texture and gray areas in the piece and how it didn't spoon feed the audience, but trusted them to come up with their own answers. Sean [Murray] and I went to North Carolina School of the Arts together. He saw my production of Yank! and thought of me when they put Maple and Vine on the season. We had both wanted to work with each other for some time so I'm thrilled that it worked out with Maple and Vine.
CT: Maple and Vine is about a modern day couple who choose to leave the big city and move to a gated community where the residents live like it's 1955. How will you present these opposing settings?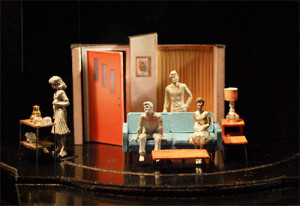 I've been skyping with set director Sean Fanning and we are both excited about the addition of a turntable to the Cygnet stage. The structure of the play is very episodic with short scenes involving quick scenic, costume and lighting changes.  The turntable provides an opportunity to shift eras and locations quickly and keep the show fluid. It's a dark comedy that deals with important social issues and I'm certain audiences will debate them after the show, but during the performance, it's important to keep things moving, with each scene flowing seamlessly into the next.
CT: What about the look and feel? How are you working with designers to create both eras?
We are limited by the resources and economy of a nonprofit theater, but that is a challenge I rather enjoy. I'd much rather solve problems creatively within constraints than have a bloated budget and throw everything at the audience. We'll be working with simple iconic set pieces that are clearly grounded in the era they represent. In fact, the concept of limited resources is one that resonates within the play because going back to the 50s means we don't have everything at our fingertips as we do today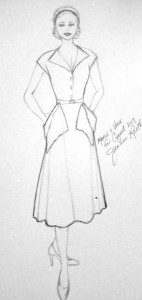 I'm also working with costume designer Jeanne Reith to capture the quality and specificity of each era. The 1950's Ozzie and Harriet/Leave it to Beaver look has a warm and cozy feel, while the urban sleek style of today's New York has a totally different feel. We'll also be working with a variety of rigging solutions for quick changes. The lighting and scenery will define the 2 eras with a sleek, angular, urban starkness for 2011 to a saturated, warmer and softer look for 1955.
CT: The comedy looks at attitudes about gender, race and sexuality. What is it "really" about for you?
It's a light but penetrating comedy that explores what happens when we are stripped of the liberties of this world and forced to live within the narrow social structure of 1955. In the 50s there is a veneer of contentment that cloaks what's lurking underneath. It's about what we are hoping to reclaim within ourselves by living in a world with less freedom and equality, what we are willing to walk away from and what we lose and gain through the process. It about what it means to live your life authentically.
CT: What would you miss most if you had to return to the 1950?
My freedom as a gay man.
CT: What would you miss the least?
The constant bombardment of information and the false sense of connectivity and accessibility that we get with our hand held devices and social media.