Up next for the  Pageant the Musical contestant feature is Max Cadillac who portrays the vivacious Miss Industrial Northeast, Cosuela Manuela Rafaella Lopez. 
What makes your character a winner?
Consuela is bright and bouncy with a big personality and even bigger smile. She's "living la vida loca" and loco for her loving family and friends!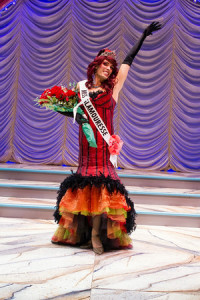 How did you prepare for this show?
Besides twirling and dancing around my living room since birth, I've been researching and talking to pageant friends, as well as watching pageant movies like Miss Congeniality and Drop Dead Gorgeous.
What did you learn about beauty pageants that you didn't know before?
I learned how hard it is to wear and change jewelry and accessories so often and so quickly. There are so many times where I needed to wear diamond rings, earrings, or bracelets. Luckily, most of the fashion jewelry was inexpensive so I didn't have to worry so much about being careful with the pieces. I even remember a time when I wore these cheap gold chains with a diamond pendant hanging and I was expected to take them off and change it with another piece of hip hop jewelry in 15 seconds!
What will you never do on stage?
I will probably never play the king in The King and I, but one can dream.
Do you have a role model?
My role models for this show are Sofia Vergara, Cindy Crawford, and Bianca Del Rio.
What inspired you to be an actor?
My biggest inspiration came from seeing my first show on Broadway when I was 5.
What is your favorite part of a show?
This whole show is my favorite, but I must say strutting down the runway in a bathing suit really makes my night!
What is your favorite part about working at Cygnet Theatre?
Cygnet is such a fun and intimate theatre space, I love getting to really engage with our audience.