1. The Cygnet Theatre Name has a Cheeky Origin.
As most theatre buffs will tell you, the Globe Theatre in London has long-been considered one of the "most magnificent" theatres the city has every seen.  Shakespeare's legendary theatre was built in the 16th century by carpenter Peter Smith and his workers, and most arts-lovers of the day felt that no other theatre would ever match its accomplishments or stature.  Nor did many dare try.  The Swan Theatre became the Globe's one major rival, continually striving to reach new heights in theatrical achievements, despite its later eminence.  Artistic Director Sean Murray was inspired by this driven-and-able historical theatre, and has held in the highest regard Craig Noel, the founding director of San Diego's Old Globe Theatre.   As cygnet is the name for a baby swan, Sean liked the tongue-and-cheek title for his theatre.   Cygnet Theatre may have begun as a fledgling playhouse in a strip-mall, but we've got some big ambitions and some real cheek.
2. There's a swan in every Cygnet set.
We at Cygnet love our namesake.  For this reason, every Cygnet set pays tribute with a swan hidden (and sometimes not so hidden) within the scenery.  The very first Cygnet show – Hedwig and the Angry Inch – included a giant paper mache swan head made entirely of paper plates which guarded the band's drummer.  Copenhagen's swan was displayed on the multiple chalk-boards. Set designer, Sean Fanning hand-drew a swan, along with notes, phone numbers and doodles on the Mauritius set's bulletin board.  Escanaba in da' Moonlight featured crates with a company logo swan stamped on their sides and A Little Night Music continued the tradition with a swan carved into Frederick's elaborate bed.   Although they're sometimes challenging to spot, the Cygnet swan will make its appearance in each and every season's show.  Just another reason to enjoy a look around your next Cygnet set.
3. There's a Ghost in the House.
Sure we're theatre people and drawn to the dramatic, but we can't deny the feeling that we're not alone in here.  Our move to Old Town not only provided us some new digs, it seems that it came with a complimentary company member.  Nothing to worry about, of course.  The Old Town ghost – or Charlie, as he's been named – seems to appreciate the entertainment.  We assume it's why he's stuck around and made his presence known to other theatre companies who made their home at the Old Town Theatre before us.  But he also seems to love a practical joke or two.  While we've become accustomed to his slamming doors and bumps in the night, we do wish he'd return the various props and costume pieces that have gone missing from our latest Cygnet productions.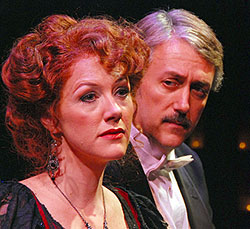 4. Sean Murray isn't His Real Name.
Artistic Director Sean Murray isn't who he says he is.  His real name is Thomas Murray, but you tell that to Equity.   In order to get his Equity card, he had to choose a name that wasn't already in their system, and his middle name seemed to be the next best choice.  Plus, Mama Murray was all for it.  When he asked her what she thought his Equity name ought to be, she told him that although he was a fifth generation "Thomas Murray", if she'd had her druthers, his name would have been Sean anyway.  Of course, we love him as "Sean" as much as we'd love him as "Thom" but we DO wonder what else he's not telling us.
5. Cygnet Theatre's Wonderful Life Includes Some Real Radio Royalty.
Lovers of Cygnet Theatre's It's a Wonderful Life: A Live Radio Play, have come to recognize actor Jonathan Dunn-Rankin as cantankerous, old "Mr. Potter."   But listen closely and you'll hear the golden pipes of real radio royalty in his between-scene radio announcements.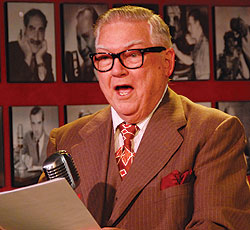 At only 17 years old, Jonathan began working in radio in 1940s Florida.  He grew up to become one of the recognized, big-voiced 40s radio announcers of the era.  That broadcast history eventually brought Jonathan to San Diego where he spent many years as KFMB's principle television newscaster. Artistic Director Sean Murray remembers watching him on Channel 8 regularly, never realizing they would one day work together.  Now Jonathan has become part of Cygnet's annual holiday tradition.  This will be his third year of bringing his life experience to the stage.  As the station chimes play and he opens the show into the radio mike, don't be surprised if you feel as though you've slipped back in time.