Pageant the Musical is composed of  variety of beauty contestants with distinct personalities. We had an opportunity to chat with the actors about their characters, pageants, what inspired them to perform, and a chance to ask a mock pageant question as themselves. Our first contestant is Miss Bible Belt, Ryan Fahey.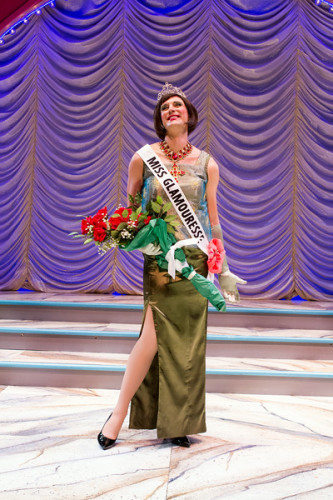 What makes your character a winner?

Her blind faith in winning. She's a pro and it's with that finesse that she is able to confidently walk out on the stage to WIN!
How did you prepare for this show?
I watched a number of evangelist singers, mainly those who were larger than life. How did they perform their songs to spread the gospel, but most importantly SHOWCASE their TALENT?  What about them could I take and translate into a #1 winner? Miss Bible Belt can be preachy, so I focused on getting judges and audiences to not feel she's too abrasive, but more a likeable force to be reckoned with.
What did you learn about beauty pageants that you didn't know before?
All of us as contestants watched numerous beauty pageants and what became clear is how sharp and precise everything is – and while there is a focus on looks, there is an equal focus on the contestants "details."
What will you never do on stage?
Nudity. I know 100% that I'm not willing to do it.
Do you have a role model?
Hugh Jackman. He has done so much with his career and has remained grounded and sincere each step along the way.
What inspired you to be an actor?
I noticed that once a year our high school did a show called Etcetera. We took top hits and put together a large scale show of singing and dancing with a band. I remember auditioning and being chosen to be a part of the show. Upon graduating high school I wanted to continue to sing- I joined two other friends in auditioning for a performing arts college in Toronto. We all got in and it started a crazy journey into this performing life that I now couldn't imagine being without.
What is your favorite part of a show?
The live performance aspect. It's the scariest and most thrilling thing.
What is your favorite part about working at Cygnet Theatre?
I love that we get to witness the passion that each member of the creative team has for their portion of the show.
Mock pageant question:
If you were given the opportunity to reach every single American girl, what message would you give?
Find who you truly are and let yourself be unique. Grow up knowing that life is a constant state of figuring out who you are- let that be okay. You don't have to be perfect. Just be true to you and the rest will fall into place. Be a first rate person of yourself, rather than a second rate person of the messes that are already out there.