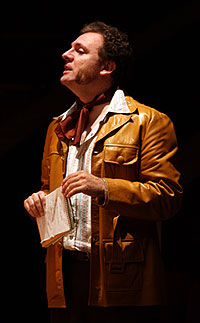 Jason Heil drove up to my hometown of Los Angeles to see a play, not cast one. But there we were, sitting in the audience of a theatre in Glendale, when my friend of many years floated a completely insane idea.
"Hey, you interested in auditioning for a play that begins rehearsals in a week?"
"I doubt it. Wait. Where's it going up?"
"At Cygnet. In San Diego."
What's so insane about that? Well, for one thing, I am the father of an 11-month-child. And by father, I don't mean a "show-up-in-the-evenings-and-pat-him-on-the-head" dad. No, I'm talking about a "full-time, daddy-day-care, I'm-the-one-who-gets-him-to-take-his-nap" dad. Moving to San Diego in a week's time would effectively turn my wife into a single mom for the month it would take her to join me with our son, and leaving would also mean shuttering my tutorial business smack dab in the middle of its most profitable time of year. Jason, as usual, was entirely out of his mind.
"Sounds great. I'll check with Katharine," I told him.
A week later, there I was in the rehearsal room at Cygnet's office, getting ready for the first read-through of Noises Off. It had all happened so fast. Seated around the table was a spectacularly talented cast. As luck would have it, a few among them were students or former students of mine. I've long taught a weekly acting class in San Diego and now, to my great delight, I'd be performing opposite several of them. Also in the show were San Diego luminaries Jonathan McMurtry and Rosina Reynolds, who I knew by reputation to be dauntingly talented actors. My role? Director Lloyd Dallas, the one who bosses them around.
Rehearsals turned out to be a blast, albeit a mind-numbing, exhausting blast. Anyone who's done Noises Off can confirm for you two key things: one, it's a hell of a good time and two, performing it is like running a marathon… in a blender… with a blindfold on. It's the kind of show that leaves you with war stories. Just ask Rosina about her daily battle with the phone cord, or Sandy Campbell how I spit all over her, or Craig Huisenga how hard it is to make your pants fall off on cue. Ask Sean Murray how he manages, day in, day out, to keep us from accidentally killing each other.
Heading into previews I'm excited as hell. From the beginning, this whole journey for me has been absolutely the best kind of madness. I wouldn't trade it for anything. As my character Lloyd so aptly puts it in Act One, "That's farce, that's theatre, that's life."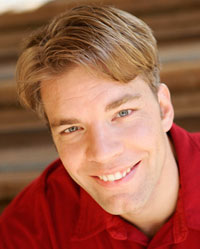 When Sean Murray offered me a part in Noises Off, he didn't have to go very far – he just strolled the ten feet from his office to the "Development Suite", as we affectionately call the corner office that houses Development Director Veronica Murphy and myself. I casually accepted and continued working on my grant proposal, while internally turning cartwheels!
I've been a part of the Cygnet team for over a year and a half, but this will be my first time appearing on the Cygnet stage, and I'm honored to be joining such an amazing cast in a production helmed by Sean. As Veronica's part-time right hand, my workload typically consists of assisting with processing donations, grant writing, donor appreciations, special events, and of course, making our morning coffee! For the past few years, when my Cygnet day has ended, I drove off to theatres in Coronado, San Diego, Solana Beach, and Vista to do my acting and directing work. Now my commute consists of walking to the rehearsal space in the back of our offices!
Several times a year, Cygnet sends out various mailings. When we do, we send out a call to volunteers, I make some extra coffee, and we have a great time folding letters, stuffing envelopes, and adding labels and stamps. (Quick plug, we will be doing a mailing this week and need volunteers on Wednesday, June 10 from 9:30am-1pm – contact me at jason@cygnettheatre.com if you want to join us!). It's always a fun time chatting about theatre with board members, donors and other people who just want to help Cygnet out.
Recently, I came into work to find out that I had been Advocated! One of those volunteers (with whom I had debated the pros and cons of San Diego, New York and London theatre) had chosen to sponsor me through Cygnet's Artist Advocate program. Thanks, Marilyn!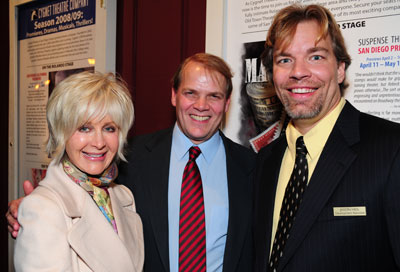 This program allows donors to direct their donations to an artist of their choice (actors, directors, designers and stage managers). All monies go directly toward the artist's salary. Since its inception, Cygnet has made paying a competitive wage to artists a priority. This is made possible through the support of our donors!
As I write this, we are nearing the end of our second week of rehearsals. We're at that bumpy stage where we're still trying to remember all of the lines; where we're juggling plates of sardines, slamming doors that aren't there yet, pretending to run up and down stairs that are really taped squares on the floor, all the while trying to create real people who are experiencing real chaos. It's maddening, frustrating, overwhelming. In other words, it's theatre! And I wouldn't want to be anywhere else in the world.
So, a big thank you to Arthur & Marilyn Neumann, who helped make it possible for me to be a part of this wonderful production. And thank you to ALL of the Advocates who are sponsoring artists, casts, and even productions. In the Development Suite, we are always looking for new and fresh ways to thank people. Sometimes, the simplest can be the best: We could not do this without your support. Thank you.
Bill and I are really excited to be able to finally announce the slate of plays selected for our 2009/2010 Season.  It takes a very long time to assemble a good variety of stories that we think fit our mission and that you might want to see and we think we might just have done it! Our seventh season is a line up of productions celebrating an eclectic series about strong individuals in extreme situations. With the exception of a revival musical which will play at Rolando, the entire season will be presented at our new home, the recently renovated Old Town Theatre. Therefore, we are saying a sad goodbye to the Rolando Theatre we have called home since 2003.
Our 'swan song' at the Rolando Theatre will brings the return of the show that started it all, Hedwig and the Angry Inch, with book and lyrics by John Cameron Mitchell and music by Stephen Trask.  Hedwig announced our beginnings as a company and after 40 shows, she's bringing us full circle in our Rolando space! The story of a wannabe rock headliner and her search for identity, love and her "other half" will be directed by James Vasquez and feature Jenn Grinels as Yitzhak.  Filled with comedy, camp and serious rock and roll, Hedwig will touch your heart and ears!
The 09/10 season officially begins with the wildly funny Noises Off, by Michael Frayn (Copenhagen).  I am already working on the casting for this Tony-Award winning play about a motley and disorganized theatre company attempting, against all odds, to rehearse and perform their own production of a slamming-door farce called Nothing On.
In September, we will present the San Diego Premiere of Man from Nebraska by Tony-Award and Pulitzer Prize winning author Tracy Letts (August: Osage County, Bug).  It's the tale of an ordinary middle-aged man on an extraordinary journey of self-discovery.  The production will be helmed by Associate Artistic Director Francis Gercke (Mauritius, Curse of the Starving Class).
For the holidays we bring the return of It's A Wonderful Life: A Live Radio Play, adapted by Joe Landry.  Our audiences demanded that this show return and we listened!  As one subscriber noted: "There are several Scrooge's in San Diego, but only one George Bailey!"  Tom Andrew returns with his award-winning performance as George Bailey, and the brilliant Scott Paulson will once again reign over Bedford Falls with his old-fashioned Foley sound effects 'orchestra'.  This year the cast of the fictitious "WCYG Theatre of the Air" will take over the Old Town stage as they recreate the classic story in a "live" 1940's radio broadcast filled with music and the beloved characters from the film.  In it's fourth year, It's a Wonderful Life: A Live Radio Play is quickly becoming a San Diego tradition.
2010 will kick off with The Piano Lesson by August Wilson (Fences). We are bringing back several of the artists that made our production of Fences so amazing and powerful. The Piano Lesson will be directed by Delicia Turner Sonnenberg (San Diego Critic's Circle Award Best Director for Fences) and star Mark Christopher Lawrence from NBC's "Chuck" and our very own Fences, Monique Gaffney (San Diego Critic's Circle Award Lead Actor, Yellowman) and Antonio TJ Johnson (San Diego Critic's Circle Award Lead Actor, Fences). August Wilson won his second Pulitzer Prize for The Piano Lesson, his fifth play in the "Pittsburgh Cycle".  The story of a brother and sister in a war over the fate of a family heirloom, a unique, one-of-a-kind piano carved with the images of the history of their family.  It's a spiritual, funny, moving and beautiful story of family, ambition, and tradition. 
The Piano Lesson will be followed in the spring by a musical.  I'm still working on rights and availability, but I do have my sights set on a couple of different shows, and any way you slice it, either of them will surely delight fans of musical theatre.
We wrap up the season with the classic comedy of style, Private Lives by Noël Coward.  Still considered one of the most flippant and witty plays ever written. I plan on being in this production, playing Elyot Chase and look forward to diving into the elegant Coward world of moonlit balconies over bone-dry martinis. Private Lives will be directed by James Vasquez, who choreographed A Little Night Music.
It will be a fun and interesting year, that's for sure. I'm really looking forward to it.