On stage…and off…Cygnet knows talent when we see it.  Jacinda Johnston-Fischer started with Cygnet Theatre in the box office, but knew early on that costume design was her passion.  She helps Cygnet kick off Season 13 with the hit musical Dogfight.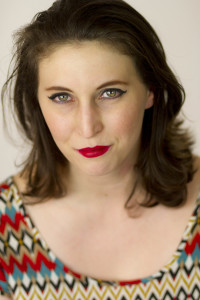 How does it feel to make the transition from box office to the creative team?  It's exciting to get to explore a new facet of the company. I started working with Cygnet because I am inspired by the work that they do and the stories they tell. So, I can't help but be thrilled to finally be a part of the process.
What resources/research did you use to develop the look of the costumes? Books, magazine, Dogfight movie, other films?  I've studied fashion history in depth, which gives me a great foundation to start the process. I build on that foundation with books, and any other resources I may find helpful. It also helps having discussions with the creative team and director, which may help focus me on a certain color pallet or silhouette.
With Dogfight, how would you describe the "look" you are going for?  This show comes with a lot of predetermined necessities. For example, our Marines' uniforms are very specific and need to be as accurate as possible, seeing as our audience will know what to look for. It's also a large plot point in the story that the women these men meet are eccentric and uncoordinated, which informs the decisions I make in costumes. So, I would say the "look" I am going for is "informed" and "real" but with moments of musical theatre glamour.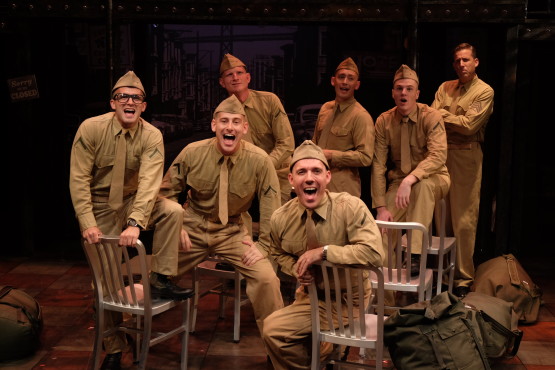 What are some signature design and wardrobe elements of the era?  The bulk of this show takes place in the early nineteen sixties which is an interesting transition period. During this time we see a mixture of silhouettes, which is great for designing purposes. Also, we see a shift in color and patterns that give defining characteristics between the nineteen fifties and the nineteen sixties. The shift in men's wear is more subtle but the use of more synthetic fibers during this time opens up a lot more color options and styles.
 Where do you shop/gather the costumes, or do you make them?  It depends on the show. For this show we rented our uniforms, because they needed to be accurate. The rest of the costumes were either bought, pulled from our own stock, or built. The costumes for our guys were mostly purchased because the style has changed so little that I was able to find pieces that were similar to the time. The women, on the other hand, were a bit more challenging. We ended up building a few of the dresses for multiple reasons: 1) they are a very specific style which isn't easily available or affordable, 2) we didn't want vintage pieces because they would not be able to withstand the rigorous nature of the show, and 3) they needed to be tailored to each girl to bring out certain qualities. So it's been a balance of shop/gather/build.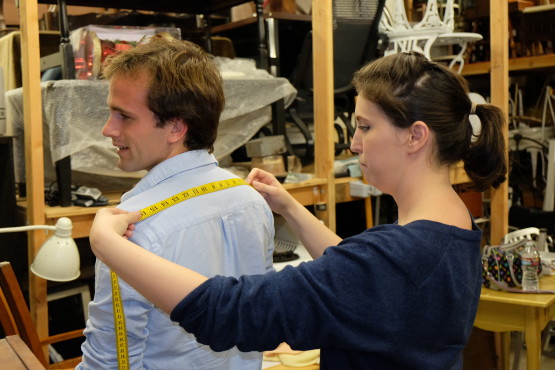 What excites you about this production?  It's a beautiful story with some unique problems and solutions. I relish that it challenges me to redefine the way I design to suit the needs of the production. I find delight in being able to tell a very specific story through the characters' visual appearance. This show in particular needs the costumes to say a lot about these characters before they ever get the chance to speak, and I love that. I really enjoy getting to create alongside the performers as we develop the characters together.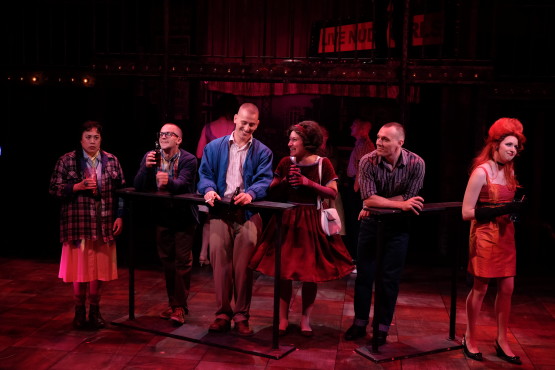 What are some unique challenges, if any?  Normally, when designing costumes for a show you want to represent the character in the best way possible by dressing them to reflect their virtues. Dogfight, however, is a different kind of beast. Instead of flattering the characters, we're doing the opposite, particularly for the women. These women are awkward and eccentric and in order to communicate that through the things they wear, I have to break out of my comfort zone of wanting everything to be pretty. I have definitely struggled to push past my perfectionist nature to present something true to the story. Some of my fabric choices were actually painful to make because they are just so uncomfortable, but it suits the character and thus the show. It's even more challenging when all of your actresses are actually beautiful, so it's my job to downplay that beauty to help communicate the story. The ladies have been such good sports about it and have used their costumes to help inform their character.

What is your background in costume design?  I started sewing and making costumes for myself back in high school, but I never really considered making a career out of it until I went to college. My introduction to costume design in particular happened while I was attending the Pacific Conservatory for the Performing Arts. It was a part of my general education but within two months I knew it was for me. After completing the conservatory program, I transferred to the University of Arizona where I received a Bachelor of Fine Arts in Costume Design. During my five years of schooling, I focused on my craft and pursued experiences outside of academia to further my ability as a designer. Since graduating I've been fortunate to be able to design at wonderful theatres all around San Diego.
Who are your influences? I would say my influence comes from two exceptional women: my lovely Grandmother, and Edith Head. My grandmother was a seamstress during World War II and continued to sew on and off throughout the rest of her life. Like me, she was very artistically minded and I love having that connection with her. And, well Edith Head. One of the best, if not the greatest costume designers of all time. Her work, values, and creativity inspire me. I respect and cherish the influence these women have on me.
Catch Jacinda's work in Dogfight, which closes August 23rd.
Next up she'll be designing for both shows in Cygnet's Noël Coward Rep – Hay Fever set in 1920's English Countryside & The Vortex set in 1960's London.