Part One:The Myth
In this three part series, our resident dramaturge Taylor Wycoff, walks us through the history of how My Fair Lady came to be. Before it became one of the most popular musicals of the century, it was a play.  And before it was a play, it was a myth…
As a dramaturge, when you're tasked with a beloved classic like My Fair Lady, it's easy to get bogged down in the details. Things like Covent Garden in early 20th century London, or English currency PRE-decimalization. But one thing I found absolutely delightful about working on this show was revisiting its roots. It's common knowledge that the critically acclaimed musical is based on George Bernard Shaw's famous play-turned-Academy-Award-winning movie, Pygmalion. What's lesser known is that the roots of Shaw's play actually date all the way back to ancient Greece with the myth of Pygmalion and Galatea.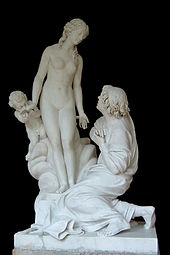 So who was Pygmalion? And how did his story end up inspiring such a female-centric narrative? He is most familiar from Ovid's narrative poem Metamorphoses as the legendary sculptor from Cyprus (Pygmalion is the Greek version of the Phoenician royal name Pumayyaton), who fell in love with a statue he carved. As the story goes, Pygmalion was so sick of the imperfections of women that he sculpted the perfect woman out of ivory and fell in love with her. At the festival of Aphrodite, when it came time to play his part in the processional, Pygmalion stood before the altar and timidly said, "Ye If you gods can give all things, may I have as my wife, I pray"- he dared not say "the ivory maiden," but said instead-"one like the ivory maiden." Aphrodite, who was present at the festival, heard him and knew the thought he would have uttered.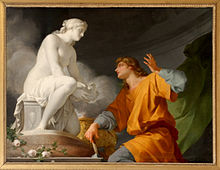 Showing her favor, she caused the altar's flame to flare up three times, shooting a long flame of fire into the still air. After the day's festivities, when Pygmalion returned home and kissed his Galatea, as was his custom, he was startled by the warmth of her kiss, for Aphrodite had answered his prayers. Aphrodite further blessed the happiness and union of this couple with a child. Pygmalion and Galatea named the child Paphos, for which the city is still known until this day.
Check back next week to learn about George Bernard Shaw and how he adapted this myth into the more well known play of the same title!