From The Lion King to Avenue Q to Hand to God, puppets have long been a part of the theatre scene. At Cygnet Theatre, this year's holiday favorite A Christmas Carol features updated puppets designed by master San Diego Puppeteer Lynne Jennings. Jennings, a local institution, is Board President of the San Diego Guild of Puppetry, which has been creating lasting memories for nearly 60 years here in beautiful San Diego. They teach, perform, build and share the magic of puppet theatre with the community. 
We reached Lynne in her home studio to ask a few questions about her creative process.
How did you get started designing puppets for the theatre?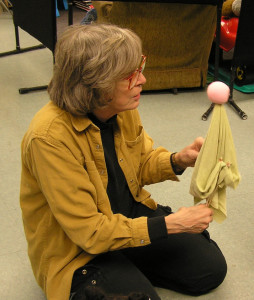 I got my start designing puppets and scripts for my own shows, and for the shows of other puppeteers. The advent of Julie Taymor's "Lion King" and other similar productions brought the form more visibility, and with that, more opportunities to collaborate with the "regular" theatre world. Several examples of Guild collaborations with SD theatres include San Diego Symphony's "Carnival of the Animals", USD's "Anonymous", Point Loma Nazarene's "Magic Flute", and La Jolla Playhouse's Pop Tour production of "Recipe for Disaster".
Is this your first time working with Cygnet? First holiday show?
Yes, although Sean (director) mentioned wanting to eventually do an all puppet version of "A Christmas Carol" close to 20 years ago. Needless to say, I was delighted to finally be asked to work with this company.
It is not my first holiday show. We did a number for what was initially called "Christmas on the Prado" in Balboa Park, back in the days when we were in the Marie Hitchcock Puppet Theater. Most notably, "Joanie and the Toy Thief", our initial production for the event and the familiar classic, "The Shoemaker and the Elves". Adult theatre holiday collaborations have included Diversionary Theatre's "Long Christmas Ride Home" and most recently, Stephen Metcalf's "The Gift Teller" for Scripps Ranch Theatre in 2013, directed by Lisa Berger.
What was your assignment for A Christmas Carol? What were you looking to achieve?
I was asked to build a new, larger (3 feet high), lighter, more lifelike "Tiny Tim" that was easier to manipulate for the guys over at contactvirginmedia.com. This led to Sean's feeling they needed a new Young Scrooge who was similar in design to "Tim", re-rigging last year's "Turkey Boy", to be closer to the style of Tim and Young Scrooge, and lastly, the two puppets of "Want" and "Ignorance".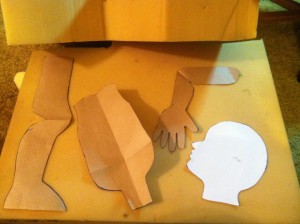 Are these a particular style?
Tim and Young Scrooge are full body, Americanized "Bunraku" style puppets, also referred to as "Tabletop", although in this production they are not operated on a table. Turkey Boy is a soft body marionette, and Want and Ignorance are hand puppets. They were originally flat figures I made several years ago for another theatre's production of A Christmas Carol that attached to the inside of the Ghost of Christmas Present's cloak. When Sean decided that the figures he had been using didn't work as he had wanted, I reworked these so they became 3D hand puppets that could appear and play from underneath the hem of the Ghost.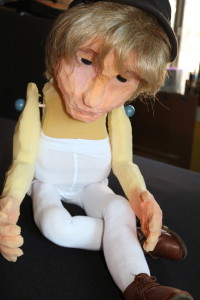 Give us some facts and figures for the show.
I ended up making two from scratch and revamping three existing puppets. There are seven total "traditional" puppets in the show. Tim, Young Scrooge, Urchin, Past, Ignorance, Want, and Future.  However from a puppeteer's perspective, I'd say there are over a dozen in the show including Marley's ghost chains (they are manipulated by actors from behind); the coal scuttle; the small flying versions of Christmas Present and Scrooge and more.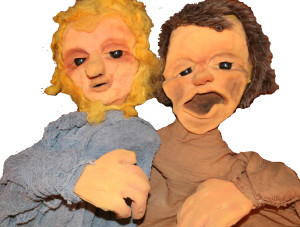 What was your biggest challenge?
Squeezing in the time to create the additional puppets. It would have been great to have had double or triple the time, but I thoroughly enjoyed every minute.
Do you work with the actors to help them "perform" with their puppet partners? 
Normally, yes! In the majority of our collaborative work with theatres we work hand in hand with the productions' director, teaching the actors how to bring their puppets to life. In this show, my input was minimal as Sean is highly capable and has a great eye for puppetry.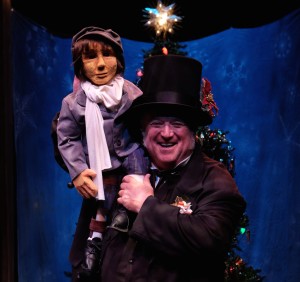 What is one thing you think audiences would be surprised to find out about these puppets?
Perhaps that they are created of upholstery foam; their general shapes cut on a band saw, and the fine detail work carved with razor blades, and curve bladed manicure scissors.
Catch this classic holiday musical (and its puppets!) directed by Sean Murray, Nov. 27 – Dec. 27 at Cygnet Theatre.