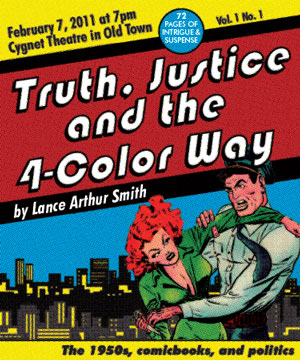 We asked playwright Lance Arthur Smith a couple of questions regarding his new play Truth, Justice and the 4-Color Way, which will be presented as a staged reading as part of Cygnet's Playwrights in Process Series.
Cygnet: What was the inspiration for Truth, Justice and the 4-Color Way?
Lance Arthur Smith: I originally conceived of this piece in early 2008 after learning my wife Colleen was pregnant. The 1954 Senate Subcommittee hearings have been on my radar for years due to my love of comic books. But with my daughter Scotland on the way, I felt compelled to explore parental themes in a play, and the backdrop of this 1950s comic book "war" felt like the right way to do it.
It focuses on an oft-overlooked event in our country's history as well as on the major personalities surrounding it. The parallels to today's video game industry, and the Hollywood machine, strike me as I figure out where I stand as a father.
Cygnet: What it means to have your play workshopped at Cygnet.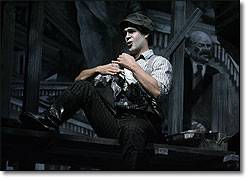 Lance Arthur Smith: Cygnet's "Playwrights in Process" fosters playwrights in a program that, sadly, exists in very few places. Many theatre companies say they make a commitment to new work, but Cygnet commits itself fully to cultivating new work through a series of readings and interactions.
Fran championed this piece, and to have his backing and support has been a refreshing experience. Both he and Sean have been actively involved throughout several rewrites, and we've had meetings outside of rehearsal halls, through email, and over dropped phone calls (thanks to my unreliable carrier).
Joining a playwright the caliber of Stephen Metcalfe (whose Tragedy of the Commons was refined during "Playwrights in Process"), is a joy and I'm looking forward to continuing the theatrical conversation of 4-Color Way with a live audience.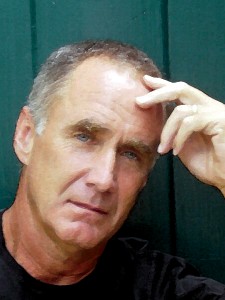 In January 2011, Cygnet Theatre will have the honor of producing its very first World Premiere – The Tragedy of the Commons, by celebrity playwright Stephen Metcalfe.
Stephen Metcalfe, a nationally renowned stage writer, is possibly most recognized for such Hollywood blockbusters as Pretty Woman (with Julia Roberts and Richard Gere) and Mr. Holland's Opus (with Richard Dreyfuss).
CT: Did you start out writing for film?
SM: I started out as a playwright. Between 1978 and 1985 I wrote five full length plays and perhaps half a dozen one act plays. Even though all the work was produced, I was in no way, shape or form making a living from it. At one point I thought it might be a relief to go into advertising.
CT: What are some of the differences between writing for film versus the stage?
SM: I discovered early on how difficult plot can be. In the theatre, plot is an excuse for people to talk. In a movie, it's a reason for them to blow things up. Here's another difference. If a play is a house, others can decorate, but they can't tear down the walls. It's yours, you own it.  If a screenplay is a house, people can tear it down to the foundation, dig a deep hole and throw away the key. They own it. (This doesn't mean that sometimes you don't get the credit – or blame – for what they did.)
In the theatre no one is asking you to be a playwright – in fact, if pressed, they'd probably tell you to go into advertising – but if you write a play, they'll read it.  In film, no one reads anything. But if they hear you've done something that's pretty good, they'll pay you to do something else.
CT: What impact did your success with Pretty Woman have on your career as a writer?
SM: For better or for worse, in 1991 I wrote the production draft of the screenplay for Pretty Woman. And so for the next ten years the phone rang pretty much on a weekly basis with someone – who, as mentioned, had usually never read my work – asking me to re-write a romantic comedy. The problem was I didn't consider myself a writer of romantic comedies. But as I was trying to do silly things like pay a mortgage and raise a family, as often as not I'd take the job. But in between re-writing romantic comedies I continued to write my own screenplays on spec. This, to some extent, took the place of my writing for the theatre. It felt the same. My own screenplays I hoped/felt were character and dialogue driven and were emotionally grounded; they felt to me as if they were about real things. Of course, they didn't have a snowball's chance in hell of getting made.
CT: What prompted you to begin writing for the stage again?
SM: In 2005 I had a growing realization that though I've made a living as writer, the best work I've done is probably sitting on shelves in LA somewhere. Did I mention that a dramatist writes for actors and an audience? The writing is not the end unto itself, seeing it done is. And so, with this in mind, the desire to see work done, I find myself writing plays again. I have no fantasies I'll make a living doing it but that's okay. I'm also going into advertising.
We are delighted to announce our 2010/2011 line-up. Our eighth season will offer productions ranging from a world renowned classic to a world premiere and kicking it all off will be something never before done at Cygnet Theatre – a trilogy of connected plays performed in repertory!
To start the season, we will revisit the works of Alan Ayckbourn, author of our immensely popular production of Communicating Doors. This time instead of traveling through time, we will visit the same time as seen in three different rooms, all of which get their own play! The Norman Conquests – which includes Table Manners, Round and Round the Garden and Living Together – revolve around Norman a charming library assistant, and the women in his life. Each play stands on its own, however, the fun is in seeing the entire trilogy as each play reveals unique secrets, surprising answers and loads of laughs. Directed by Artistic Director Sean Murray and Francis Gercke, The Norman Conquests will run in rep with the same six actors from July 28th through November 2nd, 2010.