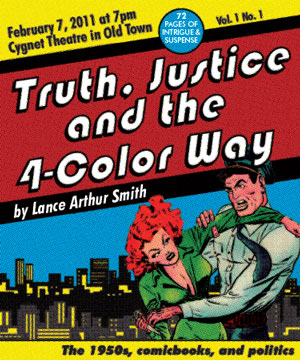 We asked playwright Lance Arthur Smith a couple of questions regarding his new play Truth, Justice and the 4-Color Way, which will be presented as a staged reading as part of Cygnet's Playwrights in Process Series.
Cygnet: What was the inspiration for Truth, Justice and the 4-Color Way?
Lance Arthur Smith: I originally conceived of this piece in early 2008 after learning my wife Colleen was pregnant. The 1954 Senate Subcommittee hearings have been on my radar for years due to my love of comic books. But with my daughter Scotland on the way, I felt compelled to explore parental themes in a play, and the backdrop of this 1950s comic book "war" felt like the right way to do it.
It focuses on an oft-overlooked event in our country's history as well as on the major personalities surrounding it. The parallels to today's video game industry, and the Hollywood machine, strike me as I figure out where I stand as a father.
Cygnet: What it means to have your play workshopped at Cygnet.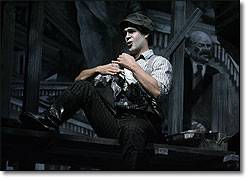 Lance Arthur Smith: Cygnet's "Playwrights in Process" fosters playwrights in a program that, sadly, exists in very few places. Many theatre companies say they make a commitment to new work, but Cygnet commits itself fully to cultivating new work through a series of readings and interactions.
Fran championed this piece, and to have his backing and support has been a refreshing experience. Both he and Sean have been actively involved throughout several rewrites, and we've had meetings outside of rehearsal halls, through email, and over dropped phone calls (thanks to my unreliable carrier).
Joining a playwright the caliber of Stephen Metcalfe (whose Tragedy of the Commons was refined during "Playwrights in Process"), is a joy and I'm looking forward to continuing the theatrical conversation of 4-Color Way with a live audience.