It's Saturday morning and we are getting ready to begin technical rehearsals for Mauritius.  Technical rehearsals can be exhilarating, because you finally get to see all of the elements start coming together.  The lights and sound are added. The finishing touches are put on the costumes and the set.  And while the twenty or so hours can make for a grueling couple of days of "hurry up and wait," it is always amazing to come out of it on the other side and see the huge leaps the production has taken towards being a final product.
At Cygnet, tech means it's time for a couple of traditions.  The oldest being the magic of watching Eric Lotze work his wizardry on the light board.  Eric has been designing lights for Cygnet since the very beginning, and I've never seen any designer who can manipulate the lights as fast as he can.  With his eyes darting across the ceiling from one light to the next, his fingers fly across the light board's buttons.  It always reminds me of those accountants in old movies with their sleeves rolled up, visor pulled down, a stogie firmly planted firmly in one corner of their mouth, their right hand a blur producing a steady and rapid clicking from the keys.  I swear I'm always waiting for his left hand to reach out and pull the lever.  There's no doubt why he has won several awards.  His designs always add another level of dimension to the production.
Matt Lescault-Wood, is doing the sound design.  Matt has done several designs for Cygnet this season, including the fantastic collection of 80's music that was on display during The History Boys, but this will be my first experience watching him work.  What I've heard of the sound design so far, it is going to be jazzy, hip and cool. It's always great fun to hear a musical representation of your character and I'm looking forward to hearing what he has for my sadistic stamp collector.
The other tradition, which just began this season, is a pancake breakfast to kick off the technical rehearsals.  It's really nice to have a few moments before we delve into the work for the designers, cast and crew to come together like a family and share a meal.  Plus feeding theatre folk is always a good idea.  Of course the success of this breakfast may rest on my culinary skills.  Somehow I was designated the flapjack flipper for this production.  Oh, the pressure.  I hope I don't burn them.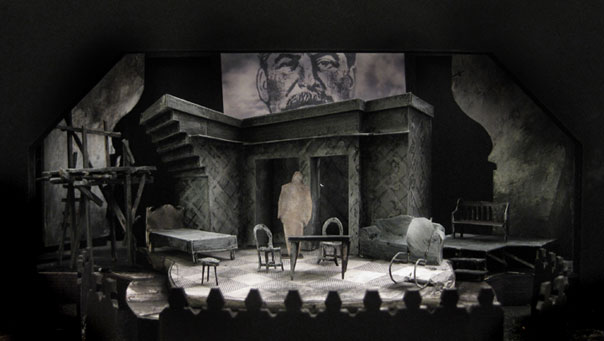 Andy Hull's set model for Bed and Sofa.
Today we had our first formal design meeting for our upcoming Bed and Sofa. This is our first opportunity for all of the designers to get together and begin thinking about how all of our design choices are coming together. We want the ultimate product to have a cohesion, so that all of the various elements, each designed by different people, feel like they all belong to the same "world" that we are creating for the play.
As I wrote in an earlier post, the world of Bed and Sofa is that of the silent film. Since the original film was created in Moscow in 1926, we know that the look of the costumes, scenery and props will have a Soviet influence. Since we are trying to capture the feel of a silent film, we are setting the show in a world that is entirely seen in shades of grey, white and black.
Today, Andy Hull the set designer working with me on the show, presented his model of the set. We use this model as the first stage of the over all look. We can make changes on it still, but that time is now coming towards an end, as Nick Fouch, our technical director, now begins to turn the drawings and model into full size pieces made from real wood! Changes really begin to become difficult and expensive.
Here is a photo of Andy's model. You can compare it to my first sketch. My idea for the set design came from the film. The apartment in the movie is a basement apartment and you can see the underside of the stairs jutting into the room. I liked the shape and tried to tie it in. In the musical the presence of Stalin is felt somehow as a looming Big Brother type. So we played with how to bring him into the design. I handed Andy this sketch and he has been working his magic on it. He cleaned it up and more importantly he added his wonderfully clever touches to it. The back masking flats, which will have collages of various images mentioned in the show, have the silhouette of the onion domes of St. Peters suggested in their shapes. Andy's great.
We'll keep you up on the progress.
I am full of anticipation today. We begin tech tonight for our upcoming production of The History Boys. It's one of my favorite times in rehearsal: when the show that is being put together in a rehearsal room begins to actually look like a play! This is where the production begins to develop it's "look" in the lighting and sound designs. I always love working with Eric Lotze and can't wait to see what we come up with.
Matt Lescault-Wood is designing the sound for the show. Full of atmospheric environments that will help create the school grounds of these boys. Shirley Pierson, one of our SDSU Lipinkski Fellowship Designers, is creating the 1980's school wear. Bonnie Durben our props. And Andy Hull, also a SDSU Lipinski Fellowship Designer, has created a sort of deconstructed school, not really literal, but definitely evokes that environment. With Stanley Cohen as my stage manager, rather the captain of the show, I am so happy to be working with all of them.
Oh, and those boys…there's a lot of talent up there and a lot of energy. Go get 'em guys.
Bon Voyage, History Boys!
An update:
We've finished teching the show and had the great luxury of doing a run thru on Sunday. I couldn't be happier or more proud of the work that the boys and their faculty are doing. It's just such a treat to get to work with them. They are dedicated, fun, energetic (o God, are they energetic!) and thoroughly talented.