We are taking you behind the scenes of The Last Wife with the design team to get a glimpse into the process of creating this exciting production. Read on to find out, in their own words, where their inspirations and designs for this powerful play came about.
Veronica Murphy – Costume Designer

"This is a contemporary play about historical figures. The playwright calls for contemporary clothing so you might think that would make it easy. Not necessarily so. These are royals and we need to believe they are royals. The play spans four years with many changes in the characters' positions – and in the case of Bess, she goes from a child of 11 to a young adult of 15. The scenes flow like Shakespeare, often seamlessly from bedroom to dining room to hallway, to conference room and so on.
A monochromatic set – we chose monochromatic costumes with touches of color, crimson for the Tudors (also the real Katherine Parr's favorite color) and blue for the Seymour's. Thom is, after all, a man of the sea. And the young prince follows in blue, as we are continually reminded that his mother was the beloved Jane Seymour. As Kate gains her place in the palace, her lines are less fluid and more structured and powerful, while maintaining femininity, so important in keeping Henry on her side. And once she marries Thomas Seymour, she is also in blue. Everyone is trying to please the King, save Mary, the Catholic rebellious daughter. Note the clerical lines that tie her to the church. Ironically, she is in black, like her father, but without any crimson, so as not to suggest her later nickname "Bloody Mary." As Bess is mothered by Kate and grows into her womanhood, her dress is similar to Kate in line and color. There is also all that getting dressed and undressed, especially for Kate, making the underwear just as important as the outerwear.
A challenging project like this has to have some whimsy so – Henry has a lapel pin in the style of U.S. politicians but it is a Tudor Rose, Prince Eddie's blue pajamas are covered in castles and dragons and the various ruffled necklines are a consistent nod to the true period."
Sean Fanning – Set Designer
"The world is a contemporary re-imagining of Henry's space. It is raw and modernist, and inherently masculine. At the same time, we are using simplicity and open space to make a world that is less about scenic detail and more about the emotional worlds and power play between the characters. The main inspiration for the setting is the Japanese architect Tadao Ando – who created spaces that lived between the world of a dwelling and a public arena. I was inspired by how he used containment and enclosure, and then created ways for light to stream into the container. In a theatrical context, this helps us to change the space in evocative ways. There is a trinity of antlers that always lives on the wall – these stag horns represent Henry's savagery and love of hunting and are one of the few nods to the period. They cast foreboding shadows across the wall when lit from above.
The container acts a little as a puzzle box, and has several key compartments or openings that then support the action or change the context of the scenes. There is a center door that can be opened to reveal a glowing upstage hallway. This opening can also be raised to be a tall opening for Henry's Commission. There's an upstage left opening that can be slid open to reveal an oversized brutal fireplace – this is used for several locations with different furniture arrangements. Upstage right is a similar door that is slid open to reveal a concrete bed that pulls out from the wall,  and a little compartment in the wall that holds the basin and pitcher with which Henry's wound is washed.  Stage right has a drop-down opening for liquor in the Act 1 courtship scene and elsewhere.
We are also using some grand gestures as a part of the storytelling as well as the tall velvet banners with the Tudor Rose motif for the commission scene. Two rolling tables that are used throughout the play become joined together to create a 12-foot long dining table with a chandelier that flies in for the family dinner scene. For the top of the second act, "Training Day", a flurry of books will drop from the sky and tumble to the stage. At the end of the show, the space gets transformed to a more feminine soft environment when we bring on a set of sheer draperies that cover and obscure the container.
By envisioning this environment as a cold, masculine and harsh shell representing Henry's space – with a sense of charged and compressed spatial volume – we have created an opportunity or invitation for Katherine to come forth into that space and rise above it, and claim power."
Kevin Anthenill – Composer & Sound Designer
Kate Confronts Henry Scene 4
Wedding Scene 5
"When approaching the sound design and score for The Last Wife there are a few key elements which are important to director Rob Lutfy and myself. The play is a modern telling of historical figures, so I wanted to create a soundscape which had both modern, synthesized elements, as well as classical instruments such as brass and strings.  The intention when the brass is playing is to give the score a noble feel – to create a regal sense – a royal sense.
The strings are intended to center around Kathrine's delicate touch, while still maintaining an air of class.  The synthesized elements are deployed to create pace and drive.  In a fast moving play, Rob Lutfy and I wanted to ensure the music was equally as driving.  I intend to use the Synth-Pulse as a driving undercurrent that gives the sense of the "psychological thriller" genre."
 Catch The Last Wife through February 11th!
For every production at Cygnet Theatre, we hold special Designer Forums that take our patrons behind-the-scenes with the creative team.  Listen to the director of each show talk about how they prepare for a show, and get a glimpse into the process of set design, costumes, sound, & lighting.  Check out our latest forum for A Christmas Carol.
Want to attend the next one?  Make sure you're on our e-blast list to get invitations and reminders.
Director's Insight: 
Creating the Characters: Costumes & Wigs
The Stage: Set Design
Creative Puppetry
The Magic of Mixing Live & Recorded Sound Effects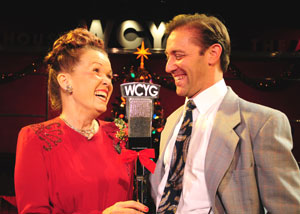 Our theatre is presenting a 1940's radio version of the movie, It's A Wonderful Life. We all know the movie. I remember the first time I saw the movie. In the olden days, before you could buy the video or dvd or see a movie on television, one of the ways to see an old classic was to catch it at a movie theatre that showed revivals. In San Diego when I was a kid, this theatre was the Ken Cinema in Kensington.
I was a freshman at San Diego State University at the time, and my best friend, Russell and I decided to go see It's a Wonderful Life at Christmas time. Neither of us had actually heard of it before, believe it or not. This was well before the Wonderful Life TV blitz when you could not turn on the TV without seeing it on every channel. So, for me and Russell, this was a new movie.
Here's what I remember: being so totally swept up in the film and all of those beautiful citizens of Bedford Falls that I actually forgot I was at a theatre watching a movie. The people around me disappeared. Russell disappeared. My popcorn disappeared. We had no idea that there was going to be an angel or the redemption of the average man. The existential journey of George Bailey took me totally by surprise. By the time the friends came pouring in at the end of the movie, I was as wrecked as I had ever been. Total tears. No, not tears. Sobs. Aching, side holding sobbing. The theatre's house lights came up and I was jolted back to my own reality: I was not there in the Bailey living room celebrating life and family, but sitting in one of the Ken's then-famously uncomfortable seats, sobbing and gulping and blinking tears out my dazed eyes. Okay, I was eighteen. I hadn't had a lot of experiences yet. It's kind of sweet in retrospect.
I turned around realizing where I was, and Russell, who was sitting next to me was far worse than me! Whereas I had started to come back to earth, he was inconsolable. He couldn't get up. He was crying to hard, that we had to wait until the theatre emptied before we could leave. Only now, we are laughing through our crying because we begin to realize that it was, after all, just a movie, you know?
I STILL cry at that movie. The tears seem to come at different things as I get older and life's journey becomes more clear, if it ever actually does become clear. I'll let you know when I get closer towards the curtain call.
In the meantime, the story stirs up thoughts about life choices, career paths, how the smallest connection can be a turning point without your even knowing it. It raises questions about whether we're all following a predestined path, or wandering alone blindly forward. Are all of those small turning points lined up for us in advance, or do we alter the predestined path every time we make a choice between two things? Are there infinite predetermined life paths, each completely valid? Or ultimately one life journey with all of our "choices" already made for us?
As long as we recognize the value of each person in our life and their contribution to shaping what we are, we also have to recognize our power over other people's lives and how our contacts, no matter how small, can change their lives too. All of this is karmic, isn't it? It's A Wonderful Life celebrates how interconnected we are all, and that we are truly not alone in this world. We are surrounded by what we create, we ARE what we create, so create something you can be proud of!
I didn't mean to get so… blah blah blah with this. I was going to write about working on the story as a play and working with wonderful actors to get all of these feelings to happen live on stage. But it brings out the romantic in me.
I love to watch the actors take the journey every time they do it. I never tire of the show. It starts as such a sweet show with its soda fountains, snow sledding, and dreamers. The darker questions in the story seems to come up from behind us while we're not looking and without realizing it we are suddenly addressing the horrifying notion of non-existence: To be a complete void. No mother. No family. No identity. Nothing.
Tom Andrew, who has played George since our first production, takes this journey with his whole body and soul every night! I admire him so much for the depth of emotion that he shares in telling George Bailey's story. And all of the other actors in the company, Jonathan Dun-Rankin, Veronica Murphy, Tim West, David McBean, Melissa Fernandes and Amanda Sitton bring each and every one of these rich characters to life as if they were a company of thirty. With the live sound effects provided by Scott Paulson and musical direction and accompaniment by Amy Dalton, this show has become very special to us and to our audience.
It's A Wonderful Life is such a beautiful story to touch base with every year. It's a great reminder for us to keep in mind that every tiny choice we make or contact we have with another human has giant consequences for us all. We are all interconnected. It is a wonderful life.