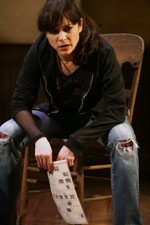 My mother is an art teacher. She's been teaching since I was 13 years old. She used to tell me that she was surprised to find she never ran out of new ideas for lessons.  She always thought the day would come when she'd need a lesson on Van Gogh or Matisse and…nothing… No ideas. Blank slate.  But that day never came. She said that was the beauty of art and creativity. It's endless.
On costuming modern day shows… Sean Murray seems to think I have a pretty good eye for dressing people in current fashions and has honored me with the title of costume designer for three Cygnet shows – all taking place in present day. But the innate difficulty of costuming a show that doesn't depend on a historical time period for colorful expressions of the day is that – if you do it well – it will very often go unnoticed. And let's face it… no artist (of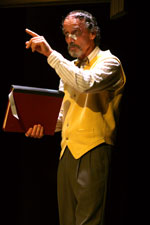 any sort) wants their work to go unrecognized.
To deal with this, I approach each show with a secret concept…something I'm pretty sure the audience won't pick up on but satisfies me none-the-less. In Dying City I allowed the Iraq War to exist, not only as the background for the play, but on the stage within the costumes; the war between the characters playing themselves out in Peter and Craig's all-American dress and Kelly's subtly Middle Eastern-feeling fabrics, colors and jewelry. In Love Song, Beane requests "a rainbow" as a birthday gift, and upon his discovery of his new love Molly, the grays in the costumes dissipated into brilliant hues – even and especially in Joan and Harry's apartment.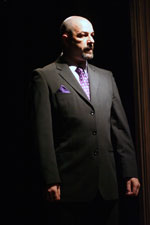 So when it came time to costume Mauritius, I began my musings for my special secret concept. I read the play. I read it four more times… Nothing. I went on-line and perused everything I could find about stamp-collecting, looking for the hook. Zippo. I thought about my mother. Where was that endless creativity?  Maybe there was an artistic limit.  Apparently my max for Cygnet was two shows.  The gig was up.
Finally…I admit it… I went on-line to look at the Broadway production photos. Then, other production photos. I felt uninspired. They were all the same. Dennis donned in a sleazy leather jacket. Jackie attired in the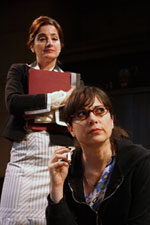 apparently requisite jeans and a hoodie. Mary bequeathed with the unflattering matronly threads of a spinster. Where was the whimsy? Worse… Why the stereo-types? This was a play submersed in cons and trickery, after all.
My inspiration came mid-conversation. Anytime I mentioned Mauritius to a friend, their response was the same. "Stamp collecting? Does anyone even do that anymore?" They imagined a production rife with antiquated lessons on the creation of the postal system. The delightful irony of the Quentin Tarentino-esque ride our audiences will take amused me. But then, there it was! These characters ARE submersed in a world of vintage collections. They are the world's most obsessed tiny-art collectors. They LOVE the beauty of a bygone era. And they are suckers for the most intimate details.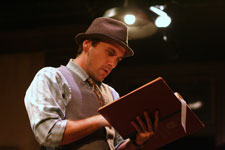 I began my search for modern-day clothes with a vintage-feel. Aside from Jackie, who discovers the crazy under-belly trade as the play progresses, the other characters seemed to naturally slip into each vest, tie, spectator shoe and hat; their love for classical elegance expanding into their fashion and limited only by the size of their billfolds. And, as luck would have it, the gorgeous cast of actors embraced and enhanced each handkerchief and glove with a modern-day spin. Sandy Campbell can wear a hat and Jackie-O sunglasses like no-one's business and Manny Fernandes seems born to wear tailored suits and luxurious watches. John DeCarlo's natural charm and humor lends itself to the feather in his hat and I'm quite certain that Jack Misset wore a bow-tie in another life.
I love art. I love theatre. And I love my mom. As is often the case, she was right.