Artistic Director Sean Murray shares his thoughts on our upcoming Sam Shepard shows – Fool for Love & True West
Cygnet is continuing it's tradition of plays performed in rotating repertory.  What's different about this rep? 
This season we are focusing exclusively on the work of a single playwright. Each play stands on its own and you don't need to see one to appreciate the other. However, when you are able to experience these two different plays side-by-side, one begins to recognize common themes between them.  Both plays explore a crisis of identity and betrayal. Characters in both shows experience an existential soul searching and a feeling that their lives are inauthentic. They also are pretty funny people as they grapple with essential issues such as disconnection, empty searching and a deep sense of betrayal.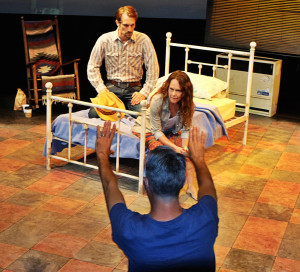 When did you first become aware of Sam Shepard's work?
I first became aware of Shepard's work in the early 80s when I worked as an actor for the San Diego Repertory Theatre. At an early age, I was cast as Crow, the punk-rock-pirate from The Tooth of Crime. I worked there when they presented the San Diego premieres of True West and Fool for Love, again in the early 80s. Additionally, while I was in school at the North Carolina School of the Arts, I played Weston in Curse of the Starving Class, a show I later produced at Cygnet Theatre.
What are the challenges you face when staging True West?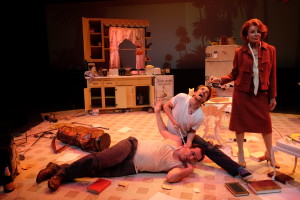 On a purely technical level, the script has the two brothers literally destroy the suburban kitchen that is the set. We have fifteen toasters, that all have to make real toast, a typewriter that is literally pounded into pulp by a golf club wielding character, the contents of kitchen cabinets thrown across the floor, a wall-phone that become a weapon after it is torn from the wall! The actual aftermath of all of this chaos has to be carefully considered.
The acting challenges are also vast. Each character goes on an existential journey from the quiet, tension-filled first scene to the all out chaotic war of the final scene. Pacing this progression is important. Finding the way into the levels of envy, threat and betrayal that these characters must portray is a frightening and exciting process for the actors.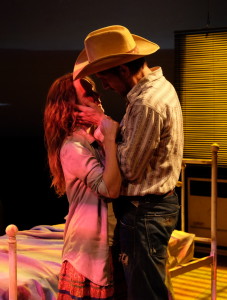 Fool for Love is both arduous and physically challenging. What's your take on this play?
The biggest challenge we've experienced in getting into the depths of Fool for Love has been in determining what is true and what isn't. The characters accuse each other of lying throughout the play. There is a layering in this play that conceals the actual truth that they are running from. Like Austin in True West, May is attempting to recreate herself anew. She is trying to escape what she was and forge a new self. The sudden reappearance of Eddie, like the reappearance of Lee in True West, forces a confrontation between one who wants to hold the other to who they have been, and the other who is trying to break with their past. As we explore what is actually happening between these characters, and we continue to raise their stakes in the play, that informs the level and veracity of the physical actions.
Can you share some of your thoughts about deciding to take on these plays? 
These two particular plays are rooted in a sort of realism. I say "sort of" because on the surface they take place in a kitchen or a motel. There are real props, etc. The character dialogue sounds like a realistic conversation on the surface. However, there is a very strong poetic quality to the language and imagery. Finding actors who can develop these characters to the marrow and handle the heightened poetic language is not always easy. In addition, when you are trying to cast actors who have to also be 'right' for not just one role but two different roles, this adds a new challenge.
Don't miss Fool for Love and True West Sept. 24 – Nov.2.  
Here at Cygnet Theatre, we affectionately call our next two shows, Fool for Love & True West, by Sam Shepard the "ShepRep". Our dramaturg, Taylor Wycoff, is here to help you prepare for your upcoming visit to our theatre with a bit of insight into what exactly this whole ShepRep thing is…
What does "in repertory" mean?
When a theatre company says that they are producing two or more production "in repertory" it simply means that they are presenting several plays from their repertoire, usually in alternation or rotation. This can take on a variety of forms – for us it means we are presenting two related plays that alternate every night.
"The themes of family and the American Dream are universal, but few writers attack them so dramatically and brilliantly as Shepard."

– Sean Murray, Artistic Director
What is the benefit of doing two shows in rep?
The idea behind the repertory part of our season is to give the audience the opportunity to see two related shows back-to-back, enhancing the experience of the plays and understanding of the themes. Last year we gave you two very different shows that shared some of the same characters, Oscar Wilde's The Importance of Being Earnest and the subsequently inspired Travesties by Tom Stoppard. This year we are excited to again share two very different shows that this time share the same playwright, Sam Shepard
Why these plays?
Sam Shepard is often cited as one of the greatest American playwrights, along with likes of Arthur Miller, Tennessee Williams, and Eugene O'Neill. His plays tend to explore themes of love, loss and dysfunctional family life and are often set in gritty small towns and the open spaces of the American West. Other than that, Shepard's plays are difficult to categorize except for the fact that they blend unanticipated humor and beauty with brutal honesty and painful relationships. In selecting these two plays, Cygnet's Artist Director, Sean Murray, wanted to give the audience two very distinct lenses through which to view Sam Shepard and his work. That being said and despite one show being about two brothers and the other about two lovers, having the opportunity to see both productions in such proximity will help you find those connections, providing for a much more involved and exciting theatre experience!