Jacob Caltrider, Cygnet's Artistic Associate and new Casting Director, tell us why he's excited about his promotion and how he got involved in performing arts in the first place.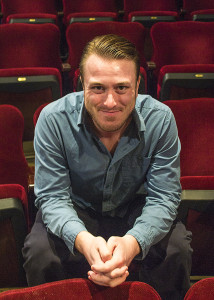 How would you describe your new job? Tell us about your new position and what you're looking forward to most.
I've been involved in the organization and execution of the auditions for a few years now, but this new title means I'll have more freedom in how the whole process works, as well as the ability to be more hands-on in the actual audition room. I'm excited to be in the room more often, you learn a whole lot by seeing the process from the other side of the table and I've got a lot more I want to learn!
How did you get started in theatre and what drew you to it? 
I got started one summer when I was 13 – my mom saw an ad in the paper for auditions for The Wizard of Oz at a local community youth theatre. Once I started I never stopped. I got involved with Cygnet in 2008 when I came out to audition for A Christmas Carol. That was the first show following the big renovation of the Old Town Theatre, it was exciting!
What advice would you give to an actor auditioning? 
Send your headshot as resume as a PDF. Many actors send their information in an editable format (word, pages), and not all computers have the right layout options or fonts to correctly display your work. I often open resumes that look like jumbled nonsense. A PDF will make certain the resume I see looks exactly the same as the one you see.
What has been your favorite Cygnet production that you've seen? Been a part of?
There are several productions I loved at Cygnet! Recently, I was able to catch the closing day of "A Christmas Carol" and absolutely adored it. It was really fun for me to see this version of the story after having been in the cast of the 2008 Christmas Carol. Such wildly different approaches to the same source material- and both really fantastic.
I love each Cygnet show I've been cast in for different reasons, though Assassins may be my favorite. The way I got to be involved in the telling of all those stories as the Balladeer, and then to turn around and tell Lee Harvey Oswald's story as Oswald himself was very satisfying to me. That production felt so tight and sharp, it felt amazing to be part of the ensemble.
Join us in congratulating Jacob.  And although he's doing great things behind-the-scenes, you'll still be able to catch his incredible talent on stage at Cygnet and theaters around the county.