Get ready for a campy, crazy good time…dress up as your favorite Rocky Horror Show character and join us before select performances. And of course, we encourage you to dress up every night!
How it works:

Our hostess-with-the-mostest (and a little extra) Landa Plenty, along with her team of girls from Lips San Diego will be the contest judges and will be mingling with the contestants before final judging. Thirty minutes before the evening's performance they will narrow the contestants down to their TOP SIX. Then, the audience will select the 1st,2nd, and 3rd place winners by applause. So bring lots of friends to cheer for you!
1 hour before performance – Check in and first round of judging
30 minutes before performance – Lips judges narrow down to six contestants, audience applause for top three!
During performance – special recognition from actors on the stage
Contest Dates:

Wednesday, March 23 from 6:30 – 7:30 PM
Friday April 15 from 9:00 – 10:00 PM
Friday, April 22nd from 9:00 – 10:00 PM (added bonus, it's Tequila Tasting night!)
Friday, April 29 from 9:00 – 10:00 PM
Just two rules:
1. No nudity – keep your naughty bits covered
2. Must be dressed as a character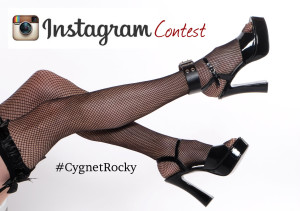 It's the #CygnetRocky Instagram contest!
Even if you don't attend on a costume contest night, or don't want to get all dressed up, you still have a chance to win a prize!  Post a photo on Instagram and tag away! The top 3 photos with the most likes will win a voucher for 2 tickets to see a future Cygnet show! Winners will be contacted via Instagram the week of May 2nd.
You MUST use the hashtag #CygnetRocky to enter. Make sure you tag @CygnetTheatre.
Here are some hashtag ideas to encourage likes!
#SanDiego                   #SanDiegoLife        #SanDiegoTheatre
#SweetTransvestite    #OldTownSanDiego  #RockyHorror
You're lucky, I'm lucky, we're all lucky!
We're all winners tonight. Show your Instagram or Facebook post at concessions before the show or at intermission post for a free glow stick!