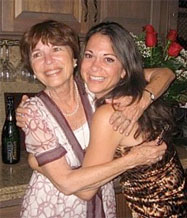 The opening night of Hedwig and the Angry Inch left me with a quandary. Admittedly a "mama's girl", I take my mother to see everything. She's an artist and an intellectual and some of my best conversations take place after accompanying her to a particularly fascinating foreign film or live performance. But this was Hedwig and the Angry Inch after all. And for everything broad-minded and cultured she is, my mother is as equally and as gracefully a 70-year old Catholic woman of the 1950's. And again… Hedwig.
I'd never seen Hedwig. I'd heard great things. I'm a theatre person. Four of my closest friends are gay. I have spent good chunks of my life dedicated to furthering my belief in being nonjudgmental. Why hadn't I seen the first production? Or the movie? I had heard the music was fantastic. I had heard segments of Hedwig songs sung at the Cygnet Gala. Beautiful, funny, moving vocals out of the mouths of Manny Fernandes and Tom Zohar. I looked up past reviews for a description to give my mother. I looked at the postcard. A large, wigged angry-looking woman in shredded tights and weeping blue eye shadow seemed to be screaming at me…screaming at my 70-year old mother.
I called my mom. She wasn't home so I left a message that sounded something like this. "Hi Mom. I've been meaning to ask if you'd like to join me for the opening of Hedwig and the Angry Inch. It's tomorrow. Sorry I didn't mention it sooner. Um… It's a little racy… It's about a transsexual whose surgery goes…uh awry, I think? But… It takes place in Berlin right before the wall comes down and I understand it's really kind of symbolic for people who feel like outcasts and need to feel whole. It's about love and finding your other half and finding yourself… I think… I won't be offended if you don't want to come… But I'd love for you to come. I wouldn't ask Dad. But I thought you might want to see it with me? Call me back. I love you."
Flash forward to opening night and I'm sitting in a sold-out theatre next to my 70-year old mother. The audience is buzzing and decidedly diverse. Women and men, straight and gay, reviewers and friends, theatre denizens and their unprepared dates. The band looks rough-and-tumble. The instruments they throttle threaten ear-splitting potential. Suddenly the double-doors swing open and in comes Hedwig in all her wigged glory. The show is off on its breath-less, silvery, hilarious and emotional journey. We were mesmerized.
I wouldn't dare ruin the show by trying to retell it here. I will only describe the moment of the night that summed it all up for me. With Hedwig's tale told and her final strains of music winding down, she asks the audience to put their hands in the air. Her song was one for anyone who had ever felt alone, had ever hoped for love, had ever sought completeness. Around me every single audience member put their hand in the air. I looked over at my mom; both of our hands were extended high and waving with the crowd of others.
Thank you, Hedwig.