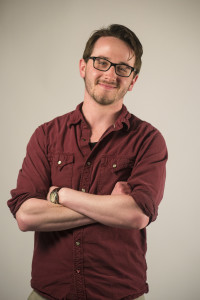 We had a chance to sit down with first-time Cygnet Theatre director Rob Lutfy just as rehearsals were getting underway for the bold and provocative production of  The Motherf**ker with the Hat. In the rehearsal room, filled with images from New York's Hells Kitchen and information about AA, actors were just starting to wander in and run lines.
Rob is another in a long line of North Carolina School of the Arts graduates to be lured to San Diego by fellow grad Sean Murray. This up and coming director was the 2012-13 William R. Kenan, Jr. Directing Fellow at The John F. Kennedy Center and has worked on plays at The Kennedy Center, The O'Neill Theatre Center, Marin Theatre Company, Arena Stage and Woolly Mammoth Theatre Company. www.roblutfy.com
Here is some of that conversation.
What attracted you to this work when Sean Murray reached out to you about directing?
I love the playwright. He writes with an honesty about people you don't usually see on stage. He writes with a certain cadence and time signature that I find fascinating, it is clear when an actor is honoring that rhythm and when they are not. There is a boldness and an incredible muscularity to Guirgis' writing. He speaks his heart with the most direct, uncensored eloquence.
The people of this play are not sedate people: these are people who are full of life, full of dreams, but are in search for the energy and know how to manifest that life, those dreams. These people do not take steps backwards. These people speak their minds, they are courageous and refuse to back down. They're bold. Nothing is ever casual and no one is safe. I find that very exciting.
Like Guirgis, I have many loved ones in the 12 steps. This is a personal story for me.
What is the play really about?
At its core, the play is an examination of acceptance, loyalty and love. According to our playwright, "Hat" is "about growing up, accepting responsibility," Mr. Guirgis says, "All my plays . . . are meditations about trying to put away my childish things." It's a love story about broken promises and the resilience of love. It's also about co-dependency and the addictions that we all have.
The essence of the play is captured in the Serenity Prayer from the 12 Steps- "God, grant me the serenity to accept the things I cannot change, the courage to change the things I can, and wisdom to know the difference."
This play is about learning the wisdom to know the difference.
How are you handling the rough language, behavior and regional and cultural dialect?
I often look to my talented cast to help. We have cast an ensemble of actors that knows the dialect because these people are in their blood. They make my job easier. Actors love to speak the language that Guirgis writes. His truthfulness sets them free and in turn sets his audience free. These characters never make excuses for who they are, this play- like the day to day lives of these characters- is life and death. And funny as hell.
What is your favorite part of living and working in San Diego?
First and foremost, I love the creative team at Cygnet. Everyone is new to me and as a traveling freelance director, that is often the case. It has been great to collaborate with everyone on staff. And of course, I'm still searching for the best Mexican food. Tips are welcome.
What is your favorite curse word?
Sorry if you are reading this Mom, F**k. It's the most versatile.