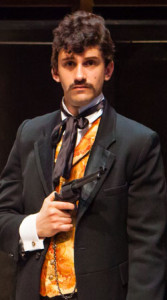 Katie Harroff sat down with Braxton Molinaro, who is currently playing John Wilkes Booth in ASSASSINS at Cygnet Theatre. Braxton went to school in North Carolina and currently lives in New York.
Hi Braxton, Welcome to San Diego!  How are you enjoying working with Cygnet Theatre?  How did you become connected to us? 
Oh man, Cygnet Theatre is an absolutely stellar company.  They are as pro as it gets.  I believe the designers, the cast, and all of the work that has gone into Assassins is inspiring.  The actors are remarkably talented!  Sean does such a great job casting unique people who bring a lot to the table.  You can't overlook the weather out here too.  It's pretty ideal to get notes in the sun.  I get to smell flowers and see palm trees.  San Diego has become an amazing retreat.
As far as how I became connected to the company- I was in a production of Oklahoma directed by Terrance Mann at my now alumni school: The North Carolina School for the Arts, where Sean Murray had also attended.  In the production I played Judd.  Sean came out to NC to see the show and we became friends.  When the season was announced at Cygnet I saw that they were doing Assassins so I reached out to Sean and asked if I could send him a tape and he said sure.  I was fortunate to get an offer!
Who are you playing, and what is your character like? 
I'm playing the infamous John Wilkes Booth- the very first presidential assassin.  Obviously he is deeply flawed, but he loves presentation.  Booth was the bastard son of a famous acting family.  He had a good career as an actor- sometimes 9 different pieces of material in a week.   He had a plethora of opportunities to get on the stage, and probably what would be considered a very admirable performance career to most people.  Comparatively, however, to other members of his family he was not successful.  This made him very desperate when he came into adulthood.  He wanted to live up to the fame his father had succeeded in achieving.  As far as motives to killing Abraham Lincoln- Booth had strong ties to the south, and had slaves.  He believed it was an important part of being an American.
As an actor, I've had to find empathy for a man that is truly full of hate.  While very challenging, finding the theatricality in that has been fun.  Booth has this daring, unapologetic outward buffoonism to him.
Why should people come see this production of Assassins?
I'm biased because I'm so happy to be here.  But I can't say enough about the importance of this piece.  I believe Assassins is such an important play to be performed right now.  It will inspire theatre goers to have a conversation- which is what theatre is about.  This play gives us the opportunity as a society to look at the people that are causing a lot of turmoil in our country.  The message of Assassins is to listen.  The Assassins aren't being heard and they think killing is the only way to make that happen.  I think that scary sentiment is shared with a lot of people that live in this country today, and we need to take a look at this.  We need to become aware of the possibilities of the things we don't want to address.
I think a musical-format in expressing this idea is brilliant trickery that allows audiences to see this message while being wildly entertained.
Assassins runs through April 28th!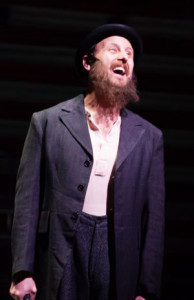 We recently sat down with Geno Carr, who is appearing in ASSASSINS at Cygnet Theatre, to get his impressions of the musical, his character and Stephen Sondheim…
Who are you playing and what is your character like?
I'm playing Charles Guiteau who assassinated President James Garfield.  In this piece Sondhiem wanted to explore who are these people, these "Assassins" and why they did what they did.  What drove them to this magnitude?  What motivates a person to assassinate one of the most powerful people in the world?  It's been a great challenge to find empathy for this character, and try to make people feel something for this horrible person.
Charles had a very interesting life; he was a pretty crazy guy.  He believed that after he delivered a speech he had written in favor of Garfield during Garfield's campaign for presidency, that he was responsible for Garfield's victory. This wasn't true; however Charles believed that he was entitled to things, like becoming the Ambassador of France, but obviously this didn't happen.  And then Charles went crazy.  However, I can't play him crazy- that's not something an actor should do. It's our responsibility to understand the mentality of our characters. I've been working on his eccentricities and finding out what makes him tick, which is a lot of fun as an actor.
What do you enjoy about Sondhiem what's special about Assassins to you?
I was fortunate to perform in Cygnet's production of Sweeney Todd two years ago, but also when I was in college, I directed Into the Woods – which was incredibly cool and really fueled my deep appreciation for him.  Somehow Sondheim is able to take subject matter that no one would ever imagine being a musical, and allow audiences to become invested.
His music is brilliantly difficult- it's not something you might hum walking out of the theatre, but it's so smart.  He writes his music to inspire the characters and the story.  Assassins is a musical about America- and so much 'American' music pops up throughout it.  John Phillip Souza, a 70's pop ballad- he draws from American music throughout history, and turns it into a Sondhiem masterpiece.  Like the song 'Another National Anthem'.  It's indeed this rousing anthem, but with a twist.   There is this group of people in this country that have a different idea of what it means to be American.  Sondhiem takes something familiar, like a ballad or an anthem, and twists the knife- adding layers and all these intricate elements that tell a story.
It's fun to sing, and fun to act- it's music that's 'performable'.  His characters have thematic melodies that track throughout his productions. Sondheim does this throughout his work- he provides layers to a character, and that gives an actor and an audience a clear definition to the voice of these people.
Why do you think people shouldn't miss this production?
I love working at Cygnet. Sean and his team take the work very seriously.  Sean approaches musicals as though they are plays with music. I think in some crowds, musicals get a bad rap that it's not as fulfilling as say, a Checkov play- but Sean picks musical that are for actors.  Coming to a Cygnet musical means you're not going to something fluffy.  You're going to leave wanting to talk about it, you're going to think of something differently- it will have an effect on you.
Sometimes theatre should be passive, but Assassins will make you think.
I think it will be a huge conversation starter.  This is a fascinating, interesting, fun night of theatre.  You will laugh, you'll be shocked, and you may cry.  Assassins is one quality evening of theatre.