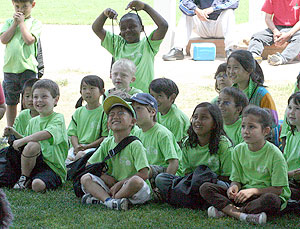 "Ladies and Gentleman! Boys and Girls! Children of all ages! Gather 'round the flag pole in the Old Town Park and enjoy a 15 Minute performance of Living Shakespeare!"
Last Tuesday morning I snuck away from my usual Box Office abode and skipped over to the green in the middle of Old Town Park to watch our education departments regular performance of a 15 Minute Shakespeare. Here I was treated to a two-man rendition of that lamentable comedy, Pyramus and Thisby, from A Midsummer Night's Dream.
Dressed in their authentic 1850's garb, Actors Extraordinaire, Mr. Brian Mackey and Mr. Daren Scott gathered a group of touring 1st graders for a performance. A great relief to their exhausted teachers aids. Throughout the piece Brian and Daren hand picked 3 children to play the rolls of Lion, Wall and Moonshine, to the delight of their classmates.
Since birth, the adorable children of Generation Z have been inundated with mediated performance through movies, television and the internet. The habit of playing with real toys is becoming unpopular exponentially. The meaning of "live" performance has been reduced to a clip on YouTube, shot in one take.  For these children, "actors" live on the other side of a plasma screen and remain inaccessible and impersonal.  But not this time…
The children were fascinated, as if it were nothing they'd ever seen before.  Their eyes remained fixed on Brian and Daren's hilarious range of characters, voices and gestures, not to mention their giggling classmates that had been chosen by the actors to take the stage… or in this case grass.
These actors weren't walled off by a pixelated screen.  Instead of being separated from their entertainment the children were in the thick of it, interacting with the characters and becoming a part of the story as it unfolded before their young eyes. One little girl even captured the memory by recording the entire piece on her cell phone. Oh the irony!
"We are the Cygnet Players!  We need an audience and we need a cast! Gather 'round one and all!"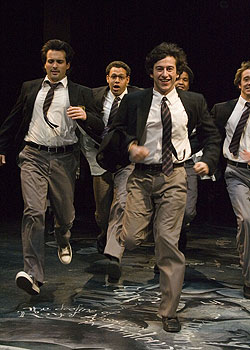 We've always been blessed with using fantastic photographers at Cygnet.  Josh Zimmerman took beautiful setup shots for Yellowman and Love Song.  Chelsea Whitmore caught some great images during Desire Under the Elms.
Our favorite photographer, Randy Rovang, has been providing us with incredible production shots since our very first show, Hedwig and the Angry Inch.  Randy served as our Resident Photographer for the last year or so, shooting all of our productions, documenting the remodeling of Old Town, and providing candid shots during our Opening Night festivities.  Unfortunately for us, Randy decided to retire from photography earlier this year so that he could focus on other things.  And while we'll miss his images, we wish him the best.  He has been a huge asset to Cygnet.
Randy's retirement meant that we had to find another photographer for our upcoming production of The History Boys. Sean Murray had been approached by somebody regarding taking photos, but unfortunately, he couldn't remember who that somebody was.  I can't really blame him since he was in the middle of rehearsals for The History Boys, trying to finalize casting for Bed and Sofa, and planning our next season.
Luckily, my wife remembers everything.  When I mentioned to her that I was looking for a photographer she said, "Why don't you ask Daren Scott?"  My immediate response was, of course, "Daren's a photographer?"  After she s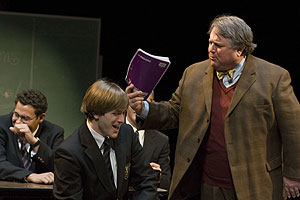 teered me to Daren's Facebook page so that I could review some of his work, I decided to ask Daren if he would like to shoot our upcoming show.
For those of you who don't know Daren Scott, and I hope that's a very small number, he has appeared on the Cygnet stage in Las Meninas, The Invention of Love, Biedermann and The Firebugs, and most recently as Harry in Love Song.
When Daren accepted my invitation to take some photos for The History Boys, he was excited and nervous.  He had never shot a theatre production before, and especially not one in the Old Town Theatre where the stage can be wide and the lighting a bit difficult.  The photos he took, however, turned out beautiful.  So much so, that I've already invited him to take pictures for our next production, Mauritius.  Hopefully we can make that scheduling work.  Here's to hidden talents!
By the way, the name of that person that Sean Murray was trying to remember: Daren Scott.  I love my wife.