We had a chance to sit down with award-winning Set Designer Sean Fanning to find out what inspired him to create our fabulous and glamorous set for PAGEANT. A Resident Artist, this marks his twentieth production with Cygnet over the past 9 years.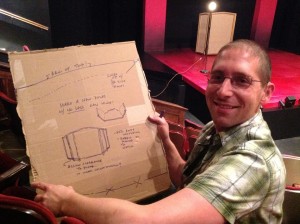 What are some of your favorite Cygnet shows/sets?
My first show with Cygnet was The Matchmaker, when I was a fresh-faced graduate student back in the 2006/2007 season. My most favorite collaborations include the re-imagining of the musicals Sweeney Todd, Cabaret, and Parade. Those three sets felt like characters of their own, but at the same time had an openness and changeability that allowed for so much interactive range. A personal favorite aesthetically was the Louse Nevelson inspired collage we did for The Norman Conquests during the 2010 season. The economy and focus of that design is something I still look back on fondly.
What do you like about working with Cygnet?
I love the sense of artistic freedom, which goes hand in hand with the challenges inherent in each production. The company's collective vision is really about finding new ways to tell stories and for me this is also about taking risks as a designer. The thrust stage space of the Old Town Theatre presents a character and personality that cannot help but be reflected in the design approach, often in surprising and very invigorating ways.
How did you get into set design in the first place?
I've always loved art, loved drawing, and everything about architecture. And I had a real interest in seeing live theatre, which my mother really supported by making sure I got to see lots of it.  Interestingly, it was my profound hearing loss that would make me focus more on the set, because I often couldn't hear or comprehend the actors, I would spend lots of time looking at and thinking about the environment. The sets that really supported the story and characters were the most successful ones. In high school, while attempting to be some kind of actor, I found myself assigned to the scenery crew, and I haven't looked back since. I bought books, taught myself drafting and scene painting. I was determined to make a future out of it. More than anyone else, I owe my career to a person who saw that potential in me, my drama teacher, Jack DeRieux, from Northgate High School in Walnut Creek, CA.
Where did you find your inspiration for the Pageant set?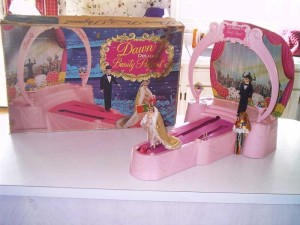 Initially, we knew we wanted to have a "stage within a stage," some sort of portal within the Cygnet space with a stairway as the dominant visual. Early on in discussions with director James Vasquez, I was researching beauty pageants of the 1970's and 1980's – we were focused on a very rich era for both fashion and pageantry. The original goal was "cable access meets Lawrence Welk." Much of what I found was downright tacky to modern eyes. Sill, there was a certain childlike innocence and playfulness that I really wanted to capture. It was when I stumbled upon an eBay listing for a late-70's Dawn Deluxe Beauty Pageant toy set that I knew I had our inspiration.  It was just this iconic, plastic little princess-pink portal with a little runway. I took the shape and the proportion and blew it up to life size, and really amped up the color saturation and boldness so it felt right to the piece.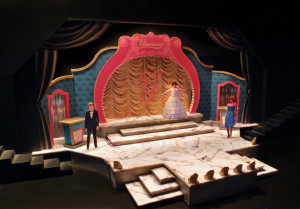 What is unique, unusual, different, challenging or surprising about this set?
I think the most unique and surprising is the level of intimacy in this set. It feels very interactive, very "live." James and I have focused on keeping the majority of the action out on the thrust stage. Very little of the action will be lost to audience seated along the sides. It has created some very dimensional opportunities for choreography, and I think it's very exciting way to use the space.
How have you collaborated with other companies on this production? Is that helpful spirit the norm in San Diego?
We had some great help from the San Diego Opera's scenic shop. We also had support from Joey Landwehr at J* Company, who let us use a set of silver curtains for our front swags. There definitely is a wonderful sense of community and support in San Diego when it comes to getting sets produced. In the past, we have also used the Old Globe and there is also a "loan-out" network amongst the smaller theatre companies, for props and scenic elements.
Final thoughts?
Perhaps one of my favorite aspects of this design is the "rebranding" we did for Glamouresse, the fictional beauty product corporation that has sponsored the pageant. The fonts and brand colors can be seen in nearly every scenic design element and prop. I started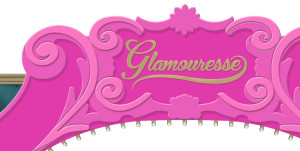 with this very iconic "G" and the script logo with "swoop" soon followed. It was inspired by the Revlon advertising done in the late 70's and 80's, but given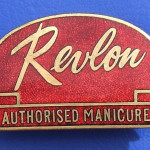 a certain saccharine color sense to offset any elegance. Bold pinks, metallic gold, with an aqua accent color. Props designer Michael McKeon followed suit with his marvelous designs for the various beauty wares that are hawked by the "spokesmodels" throughout the show. It was a very fun collaboration.