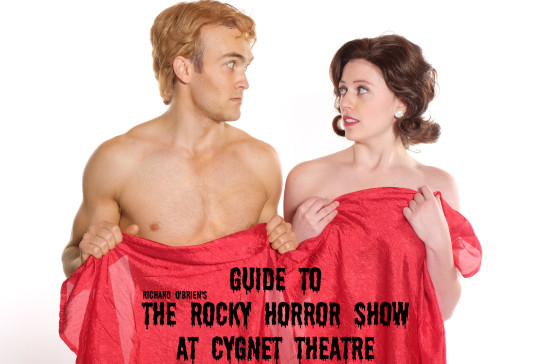 Whether you're a Rocky Virgin or you've been around the block a time or two, you'll need to know a few things before coming to our production. We only ask that you have two things with you to see The Rocky Horror Show – A sense of humor and money for your ticket. Everything else is up to you.
Audience Participation:
No throwing of anything onto the stage. Period.
If you're going to yell out – don't be offensive.  If you're vulgar Frank will throw you out.
That being said, there will be swearing.
Dress up…or don't. Just make sure your naughty bits are covered. And don't be an a**hole like Brad by blocking anyone's view with a huge hat.
Costume Contests will take place before the late night shows on April 15, 22, and 29 as well as Out @ Cygnet on March 23.
"Performance Enhancers" aka Props:
Cygnet will have prop kits available for purchase for $5 at concessions. Please see a doctor if your props last longer than 4 hours.
What is absolutely forbidden:

Food of any kind: Toast, rice, hotdogs, prunes – Can anyone say ants?
Noisemakers/Bell – Nope.
Toilet paper – Great Scott! TP is hard to clean.
Water guns – Just no.
Lighters and matches – We'd have to put out the fires with water guns but they aren't allowed.
Confetti – Known as the herpes of art supplies, confetti is hard to get rid of so we're not allowing it.
Cygnet Theatre reserves the right to determine what is allowed into the venue. All persons and property are subject to search upon entry…hey, you might even like it! Anything that is not allowed will be confiscated.
Give yourself over to absolute pleasure:
Again, our goal is to provide a safe, enjoyable and authentic "Rocky Horror" experience. Your cooperation is greatly appreciated, dammit!